Ryanair emergency descent compensation battle starts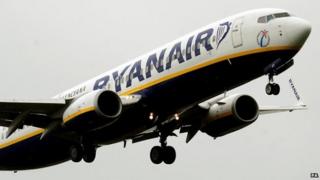 Passengers on board a Ryanair flight that plunged 20,000 ft in an emergency descent have begun legal proceedings against the airline.
In 2012, the flight from Bergamo, in Italy, to East Midlands Airport reached 31,000 ft when it descended after cabin pressure suddenly dropped.
Some of the 134 passengers said they suffered physical and psychological injuries and are seeking compensation.
Ryanair said it would not comment on pending legal proceedings.
'Changed my life'
The plane was just north of Lugano, Switzerland, when oxygen masks were released and the crew started the emergency descent of about four miles in five minutes.
At the time, Ryanair said the captain had identified a pressurisation warning and descended from 31,000 ft to 10,000 ft as recommended.
It levelled out at 10,000 feet before being diverted to Frankfurt, from where passengers were flown to the UK on a different flight.
Patricia Bertin, a PHD student at Loughborough University, in Leicestershire, was travelling with her husband and two children.
The Brazilian national said the effects of the ordeal were "devastating" and she now finds it difficult to fly.
"It's been two years now since the accident and it just changed my life completely," Mrs Bertin said.
Solicitors have issued the legal proceedings against Ryanair on behalf of a number of affected passengers who are seeking compensation.
Mrs Bertin said: "[The legal proceeding] is not going to repair what we have been through, but people need to be responsible for their actions."
Irwin Mitchell Solicitors said: "Ryanair has admitted liability, however the legal limitation period that applies to this action is only two years and expires in April.
"So, to protect their legal rights we've had to issue proceedings against Ryanair.
"We hope we can negotiate a fair resolution with Ryanair."
The German Federal Bureau of Aircraft Accident Investigation said three people were taken to hospital for examination after the incident but were not seriously injured and 10 people received minor injuries they did not require hospital treatment for.