Cheltenham woman jailed for abuse on Birmingham flight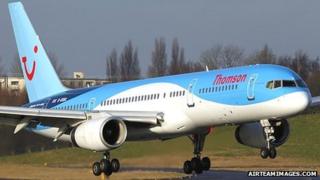 A woman who was drunk and abusive on a holiday flight has been jailed.
Marsha Woodwart, 41, verbally abused cabin crew on the Crete to Birmingham flight after being found in the plane's toilet with a litre bottle of vodka and a cigarette.
She was jailed for 10 months at Birmingham Crown Court after pleading guilty at an earlier hearing.
The court heard Woodwart, of Cheltenham, had boarded the Boeing 757 at Heraklion Airport on 19 July.
She was arrested by police on arrival at Birmingham Airport and later admitted four charges, including being drunk on an aircraft and racially-aggravated harassment and assault.
'Extremely distressing'
Thirty minutes into the flight, Thomson Airways cabin crew were made aware of a passenger who had been in the toilet for some time, the Crown Prosecution Service (CPS) said.
The crew saw smoke coming from the cubicle, removed the door and found Woodwart on the floor.
She refused to leave the toilet, according to the CPS, and had to be restrained after becoming aggressive towards flight attendants and abusive towards other passengers.
"Marsha Woodwart's behaviour on a passenger flight was not only illegal and dangerous, but it must have been extremely distressing to her fellow passengers, which would have included young children," said Suzanne Llewellyn, head of West Midlands CPS's Crown Court Unit.
"Even when she was restrained, she continued to lash out at the crew and she became racially abusive towards some of her fellow passengers."