Elver migration in Somerset and Gloucestershire aided by fishermen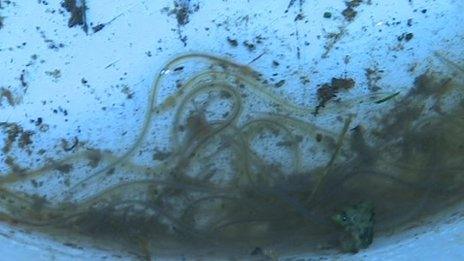 Conservationists have been moving millions of elvers - or young eels - upstream in an attempt to give them a better chance of survival.
They are arriving on high spring tides and making their way into UK rivers, including the Parrett in Somerset and the Severn in Gloucestershire.
They need to swim upstream to mature, but in most cases waterways are blocked by man-made obstacles.
Without being helped most would die if they stayed downstream.
Their paths are blocked by hundreds of barriers including weirs, dams and flood defences.
The number of elvers arriving in West Country estuaries on spring tides this year is estimated to be at least 10 times bigger than last year.
Environment Agency-authorised fishermen have been collecting the critically-endangered European eel (Anguilla anguilla) as part of the Sustainable Eel Group project.
The organisation caught more than 1.2 million in the River Parrett on Monday night on the spring tide.
Andrew Kerr from the Sustainable Eel Group said the results had exceeded expectations.
"It's higher than we dared hope and is a really fantastic achievement by the fishermen of Somerset and their contribution to the eels' recovery," he said.
"The eels caught in Somerset will be in a tank and are resting there waiting for us to release them into the wetlands of Somerset on Friday.
"What we are doing in this phase of our restocking programme is to move them over the barriers within their river system.
"We know that most - some 90% - of the glass eels die if they are the wrong side of the barrier.
"It's a massive loss and every one we get over has a far better chance of survival," he said.
A similar scheme is under way on the River Severn in Gloucestershire.
There, hundreds of thousands are in holding tanks waiting to be released over the coming weeks.
Related Internet Links
The BBC is not responsible for the content of external sites.