'No regrets' over abandoned Atlantic row challenge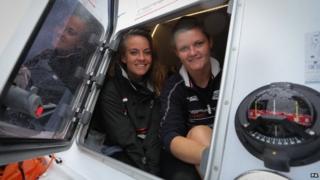 Despite a "catalogue of catastrophes" that saw two Atlantic rowers suffer a capsizing, endure countless equipment failures, days of drifting and severe injury, they say their only regret was having to pull out of the race.
"It was like something out of a horror movie," said Lauren Morton.
She suffered a 7cm (2.8in) gash to her head, "exposing bone", as the boat capsized while the rowers slept.
"Blood started flowing into my eye, I couldn't see anything and couldn't wipe it away quick enough.
"But to be honest I downplayed it [to the doctor on the phone], because there was no way I was going to get off that boat."
Ms Morton, 24, from Wetherby, and her friend Hannah Lawton, 25, from Stoke-on-Trent, were attempting to row 3,000 miles (4,828km) as part of the Talisker Whisky Atlantic Challenge.
They were one of 16 teams that set out from La Gomera in the Canary Islands in December, racing to Antigua in the Caribbean.
Drifting in Atlantic
For the University of West England students, the problems began even before the starting line and never let up.
Despite the setbacks, Ms Lawton said the relationship between the pair remained strong throughout.
"Many of the crews fell out and I've heard some of them aren't speaking to each other any more, but we didn't have any problems."
In the end, after 96 days at sea and 600 miles from the finish line, the two students called time on the challenge, arriving back in the UK on Saturday.
In La Gomera a cabin leak prevented them from doing any training and also meant they could not test the autohelm steering device, which failed within minutes, before later being "ripped off" in a storm.
"At the time we thought it was good luck, that things were going wrong on shore and we would have good luck on the water. But it didn't turn out like that," Ms Morton said.
"Now we think the boat was trying to tell us something."
Equipment failures and storms meant the students spent 44 days of the journey cramped inside a cabin the size of "half a single bed" - either at anchor, or drifting in the Atlantic.
"The overriding feeling for a lot of the journey was actually boredom, rather than worry," Ms Lawton said.
"In the end, we couldn't charge our iPads so we didn't have any entertainment. We didn't even have anything to read except instruction manuals.
"But we never fell out. We would try and grab some sleep when we could, chat and occasionally grab some fresh air, but the waves were so strong you couldn't be on deck or leave the door open for long.
"The waves were the size of houses.
"We were friends and used to row together at university, but I wouldn't say were close beforehand.
"We are now."
Ms Lawton said the pair even dealt calmly with storms, until their seven metre-long (22ft) boat capsized.
"It righted itself within seconds, but it left you a bit nervous whether another wave would take the boat over again."
They had taken on the challenge in memory of their friend Eleanor Ellis who died of cervical cancer aged 23.
"With every situation that happened we just kept on thinking obviously of El who was our inspiration and the determination and bravery she had shown through her illness," Ms Lawton said.
"To give up just because of a few things that had gone wrong seemed really pathetic compared with what she had gone through."
In the end, however, the decision was made for them.
"We were initially really happy because we knew a replacement rudder was on the way to us. But it didn't fit and the mood just plummeted," Ms Lawson said.
Even then, they turned down a free trip on the yacht to Antigua thinking that they could patch things up themselves.
Their attitude drew praise from race organisers, who described them as "shining examples" of "determination, courage and pure resolve".
Eighteen days later, however, after failing to fix the rudder, they called for rescue.
"We just looked at each other, knowing that was it," Ms Lawton said.
"We'd tried everything, so we didn't really have a choice, but it was incredibly frustrating having to finish about 600 miles from the finish line.
Rather than finishing in the Caribbean, the pair were picked up by a Belgian cargo ship and found themselves landing in Canada, in sub-zero temperatures.
Despite their experiences, the pair say they plan to take on the challenge again next year, in memory of their friend and see through "unfinished business".
To date they have raised about £14,000 for various charities and hope to add to that.
Before taking to the water again, they face another challenge, to raise another 20,000 Euros (£16,500) for the entry fee.