Navitus Bay wind farm considers port partnership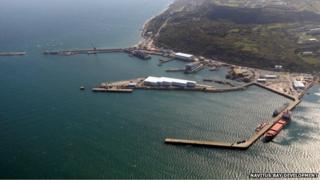 Developers of a £3.5bn wind farm off the south coast are to work with local ports to see how the facilities could be used in the site's construction.
Navitus Bay wind farm would be located between Dorset and the Isle of Wight and would be visible from the coast.
Navitus Bay Development has drawn up agreements to explore the use of ports in Poole, Yarmouth and Portland.
Under the terms, the ports will keep areas of the sites available for Navitus Bay to use from 2017 onwards.
Feasibility studies will now be carried out to assess the space available, water depth and storage facilities.
Project director Mike Unsworth said: "Our ultimate aim is to enter into a contract with one, or a combination, of these three ports that says they will accommodate construction and installation activities and host the operation and maintenance base."