Titanic last letter to be auctioned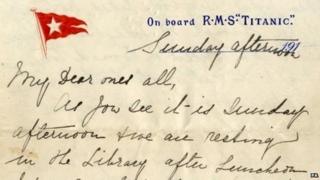 A letter written on board the Titanic and dated the day it struck the iceberg in 1912, is to be auctioned.
Survivor Esther Hart wrote the letter to her mother in Chadwell Heath, East London, but it was never sent.
She reportedly found it in her husband's jacket after she and her seven-year-old daughter, Eva, were rescued.
Her husband, Benjamin, was one of more than 1,500 people who died in the tragedy.
The letter, embossed with the White Star Line flag, is due to be auctioned by Henry Aldridge & Son of Devizes, Wiltshire, next month.
Auctioneer Andrew Aldridge said the importance of the letter could not be overstated, "being the only known surviving example of its type to have been written on that fateful day, surviving the sinking, and having belonged to such a well-known survivor".
'It rolls enough'
The paper is headed "On Board RMS Titanic" and dated "Sunday afternoon".
In it, Mrs Hart describes being sick the day before and unable to eat or drink.
She said she had since recovered and had been to a church service with her daughter Eva that morning, on Sunday 14 April.
She wrote that Eva had sung "so nicely" to the hymn 'Oh God Our Help In Ages Past' and they were both due to sing in a concert on board "tomorrow night".
Remarking on the stability of the ship, which was not supposed to roll, Mrs Hart wrote: "Anyhow it rolls enough for me."
She added: "Well, the sailors say we have had a wonderful passage up to now."
The Titanic sank on the night of Sunday 14 April 1912, on the fifth day of its maiden voyage from Southampton to New York, after striking an iceberg in the North Atlantic.