Electrified trains for Liverpool and Manchester routes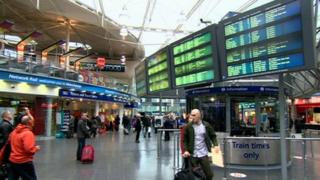 Electric trains will be introduced to the one of the North West's main rail routes in December, Northern Rail said.
The operator confirmed it had reached an agreement with the Department for Transport, with the four-carriage trains entering service in 2015.
The trains will run between Liverpool and Manchester via Newton Le Willows.
Northern Rail said the trains will provide an extra 3,000 seats for passengers during peak times of travel on the newly-electrified route.
Alex Hynes, managing director of Northern Rail, said: "This is fantastic news for our customers. These electric trains will bring much-needed extra capacity, more reliable and sustainable journeys.
"More trains also bring job opportunities as we recruit more people to crew and maintain them."
Rail Minister Stephen Hammond said the deal will also "provide extra capacity to Bolton and see a passenger train running on the Todmorden Curve for the first time in more than 40 years".