Secamb private ambulance spend rises five-fold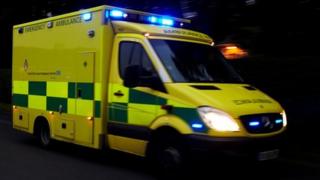 The amount of money being spent on private ambulances in the South East has increased five-fold in four years, BBC Radio Kent has learned.
Figures show that £10.4m was spent on private ambulances between April and December 2013, compared with £1.9m in 2009.
The Unison union said the money would be better spent on new staff.
South East Coast Ambulance Service trust said demand had risen 10% and there was a shortage of paramedics.
Private and voluntary contractors are used to take patients to hospital for outpatient appointments and also convey emergency patients to hospital.
In response to the BBC's Freedom of Information request, South East Coast Ambulance Service NHS Foundation Trust (Secamb) said it had recruited 110 paramedics in 2013, and was aiming to hire an additional 165 in 2014.
'Extremely busy'
Pete Steventon, Unison's branch secretary at Secamb, said: "Spending £10m in trade union eyes is not good.
"Secamb have no choice, if you're 200 paramedics short and you can't save the person who dials 999... their hands are tied.
"It's privatisation slowly creeping in to the ambulance service."
Secamb said it was still meeting its emergency response times, of reaching 75% of patients within eight minutes.
In a statement, the trust said: "Secamb is continuing to look at ways in which it can reduce use of private ambulance providers and we will always prioritise using our own crews whenever possible.
"However, along with the NHS as a whole, Secamb has been and continues to be extremely busy.
"Along with all ambulance services nationally, Secamb uses private ambulance providers when faced with high levels of demand and during periods of bad weather.
"In addition, there's a shortage of paramedics nationally. We are working hard to address this within our region."