Views sought on options for new runway at Gatwick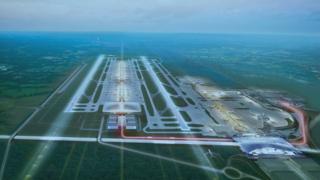 Three options for building a second runway at Gatwick Airport have gone out to public consultation.
The airport has submitted the plans to the government's review into the need for extra capacity in the south east.
All involve building a new runway to the south - parallel with the existing one - although a legal agreement prevents construction until after 2019.
Airport chief executive Stewart Wingate said he hoped many views would be expressed over the next six weeks.
"The views of the local community are an essential element in shaping Gatwick's second runway options," he said.
Architect Sir Terry Farrell is working with Gatwick on the proposal for the new £7bn runway.
The airport said it could start construction before the end of the next parliament in 2020, with the first flights in 2025.
The Gatwick Area Conservation Campaign group (GACC), which opposes the expansion, described the consultation as "plush but bogus".
"Plush because no expense has been spared in an attempt to make a new Gatwick runway look inevitable," it said.
"Bogus because the Airports Commission has already ruled out option one, the close-parallel runway."
GACC chairman, Brendon Sewill, added: "Gatwick is inviting the public to bet on a horse that has been declared a non-runner - something that no honest bookmaker would ever do."
The public consultation ends on 16 May, with the results due to be published by the summer.
The Airports Commission will make recommendations to the government in 2015 on how to meet any need for additional airport capacity in the longer term.