New deadline for sale of rare £1.1m Biblical manuscript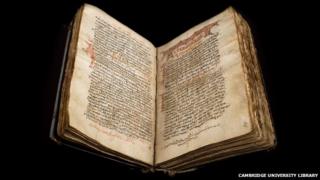 A new deadline has been set for the sale of a £1.1m early Biblical manuscript owned by the Bible Society in Swindon.
The Codex Zacynthius, which dates back to the 6th or 7th Century, has been held in the Cambridge University Library since 1984.
The university has been offered first refusal to buy it and was given until 28 February to raise the funds.
That deadline has now been extended until the end of August.
The Bible Society was presented the 176-page Codex Zacynthius in 1821.
It wants to sell it to aid its fundraising for a new £1m visitor centre inside a deconsecrated church in North Wales.
Cambridge University, which describes the codex as "unique" and "in the top 20 of New Testament manuscripts", had said its appeal to raise £1.1m was "progressing well".
However, if the target is not reached by the end of August the manuscript could be auctioned to the highest bidder.