Oxford and Cambridge firefighters in boat race clash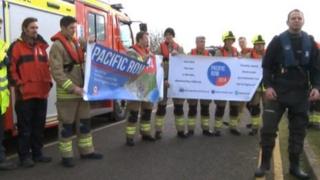 Oxford and Cambridge firefighters are training for a charity rowing match ahead of the University Boat Race.
Firefighter Darren Taylor organised the challenge as part of his build-up for a Pacific Ocean row in June.
The two crews are due to take to the water on Sunday afternoon at Christ Church Meadow in Oxford, before the university event in London.
They are raising funds for The Cure Parkinson's Trust and The Fire Fighters charity.