John Anslow prison van escape: Officer sacked and others disciplined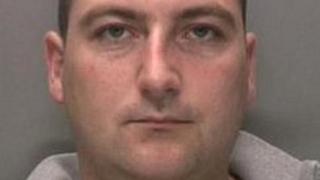 A prison officer has been sacked and others disciplined after an internal investigation into how drug dealer John Anslow was sprung from a prison van.
The 33-year-old from the West Midlands was on his way to court when he was freed by a masked gang near HMP Hewell, Redditch, in January 2012.
He was arrested in Cyprus two months later and tried in the UK.
Security at the prison has since improved and the jail given a positive rating, the Prison Service said.
Supplied drugs
"Following a thorough internal investigation, appropriate disciplinary action was taken against a small number of staff, a spokesman said,
"Security measures have since been strengthened and security at HMP Hewell has been given a positive rating by independent assessors."
Anslow, from Tipton, admitted a charge of conspiracy to escape from lawful custody at Woolwich Crown Court in December and was jailed for seven years.
He was already serving a 22-year sentence for his involvement in large-scale drugs supply following his conviction in September 2012.
Last month he was cleared of killing a 27-year-old man from Staffordshire.
Richard Deakin was shot by a masked gunman as he lay in bed at his home in Chasetown, Cannock, in July 2010.
Anslow was charged over the killing but was freed from a prison van as he was being driven to a court hearing in Stafford.