Hillsborough stories: Tracey Elizabeth Cox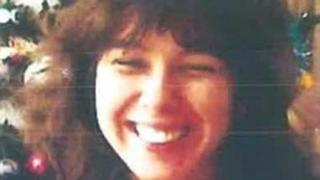 Tracey Elizabeth Cox, 23, went to the match with her boyfriend Richard Jones - who also died in the tragedy - and his sister Stephanie Jones, who survived.
This is the full statement to the inquests from Richard Jones' sister, Stephanie Conning:
I am reading this on behalf of the Cox family, but would like to say also that, sadly, June Cox, Tracey's mum, died on 21 August last year.
Tracey Elizabeth Cox was aged 23 when she went with her boyfriend Richard Jones and myself to the FA Cup semi-final at Hillsborough Stadium, Sheffield, on 15 April 1989.
Tracey was born on 4 August 1965, the youngest of five children. She had two brothers and two sisters - eight, 16, 11 and 14 years older than her respectively.
It must have seemed to her that she had three mothers and three fathers looking after her as a baby, helping her learn to eat, walk and talk and to know right from wrong.
This progressed to tree climbing, woodwork, cooking and needlecrafts.
Her mother was asked by the local school to become a helper, and Tracey sat in with the baby class at the age of three while her mother carried out her duties.
This proved to be a very good start to her education.
When Tracey was seven, her father was working in the north of Sweden. It was decided that both she and her mother would join him.
Swedish children start their schooling at the age of seven. She attended school with the local children with four years of schooling already behind her.
She had a distinct advantage over her classmates in arithmetic, general knowledge and English, but she had to learn Swedish.
This she managed very quickly, and was soon complimented on the standard of her English when mistaken for a Swedish child, even though her dark hair made her stand out from the local blonde children.
She returned with her mother to the UK in time to start her secondary education, achieving excellent results at O-level in German, Swedish and French, amongst many others.
Continuing at sixth form college to gain A-levels in Maths, English, Swedish and German.
During her gap year, she worked in Germany for six months after which she was fluent in both German as well as Swedish.
During this time, her eldest brother and her sisters had married and were raising families. Tracey had nephews and nieces as little as four or five years younger than her.
In her teens, she spent her summer holidays youth hostelling, taking all her nephews and nieces on trips at different times.
On one trip to the Lake District with school friends, she met Richard, Rick, and Peter, brothers from Liverpool.
She kept in touch with Rick, who later went to study at Sheffield University.
A daughter of a family friend suffered from impaired speech and had difficulty communicating.
Tracey found that she could understand and relate to her.
This later influenced her choice of degree and, when she came to choose which university to attend, she found that Sheffield offered speech therapy, and she chose to join Rick there. Tracey and Rick became a couple.
'Sister I never had'
On the morning of the match, Tracey was proofreading her dissertation ready to hand in for marking.
She hadn't originally planned to attend the game, but as a ticket became available, she decided to go with Rick and myself.
Tracey and Rick lost their lives that afternoon. Tracey was awarded her Bachelor of Medical Science degree posthumously.
What has been said about Tracey so far is just the tip of the iceberg. Tracey touched many people's lives in such different ways with her caring and selfless nature.
Her death has permanently affected all our lives for the worse. We have been deprived of so much of Tracey's life: her marriage, children and her growing old with family and those who love and cherish her.
As it says on Tracey's memorial plaque: "Life for so many will never be the same without her."
Personally, I would just like to add that Trace was the funniest girl I knew.
She was the sister I never had and it was both a privilege to know her and to read her pen portrait today.