Hillsborough stories: Richard Jones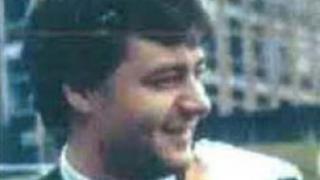 Chemistry graduate Richard Jones, 25, went to the match with his girlfriend and fellow student at Sheffield University, Tracey Elizabeth Cox. Ms Cox also died in the tragedy and his sister Stephanie Jones, survived.
This is the full statement to the inquests from his mother Doreen Jones:
Rick was born on 5 October 1963. He was aged 25 when he went with his partner, Tracey Cox, and his sister, Stephanie, to watch the semi-final football match between Nottingham Forest and Liverpool at the Hillsborough Stadium.
Richard (known to his family and friends as Rick) was the eldest of our three children. Peter followed 17 months later and, finally, six-and-a-half years after that, Stephanie.
Les and I were grateful that our children were healthy. Our family was now complete.
Ours was a very happy family, not much money, but with loads of love, music, humour and laughter.
Stephanie summed it up after Rick died when she said we had it all, the house echoing with music, laughter and lots of friends.
Rick was a bright happy child, interested in the environment and passionate about football, athletics, reading, poetry and all outdoor activities.
He was the eldest, and he took that role very seriously, always very protective towards his brother and his sister.
When he was in primary school, he wrote poetry with an understanding beyond his years, and at the age of 10, one of his poems was published in the school magazine.
He did well at all his schoolwork, and from a very early age he knew he wanted to go to university.
Science was his pet subject, followed closely by geology. He worked hard and he achieved his goal.
At 18 years of age, himself and his brother Peter went youth hostelling in the Lake District.
It was there they met Tracey Cox and a group of friends from Surrey.
Pete spoke to them and introduced them to our Rick, and so a great friendship was formed between Tracey, Richard, Peter and Stephanie.
They all loved Tracey, this clever, vibrant, funny outgoing girl who came and stayed with our family on lots of occasions.
Rick went off to Sheffield University to study chemistry; Tracey followed two years later to study speech therapy.
'Life-changing day'
They shared a flat and they became a couple. She watched him play football and she nicknamed him thunder thighs.
Richard got his degree, a BSc, and was considering a post-graduate course in chemistry.
He had a very bright future ahead of him in research.
Tracey was awarded her degree posthumously, because Tracey died at that match with her and our beloved Rick.
Our lives changed forever that awful day. I could not imagine a life without my son and nor did I want a life without him.
It was a very dark place for us all.
Peter and Rick were not only brothers, but they were very close good friends, and Peter shared all Richard's hopes and dreams.
Peter has found the loss of his brother and the way he died extremely hard to live with. Peter opted for a very different lifestyle after Rick's cruel death than the one he had planned and dreamt about with Rick.
It was as if a part of Peter died also on that awful day.
Our Stephanie, who was with Rick and Tracey at that match, miraculously survived, but was injured, and has the emotional trauma of the day to endure.
Rick and Tracey were a great couple. They had so much to offer society in general and made an impact on whoever they came in contact with.
We received an email from one of Rick and Tracey's flatmates; she had shared their home for two years.
Amongst other things, she said was: "Living with Rick and Tracey, I knew they were in love. I believe they were very, very happy. They had the real thing and they had so many friends who loved them and will always miss them."
My pain is centred on what Rick and Tracey have missed and what our lives would be like now had they not been killed. After all, they only went to watch a game of football.
When Rick was 10, he wrote this poem. It is so short that I will read it to you. He called it "The Battlefield" and he said:
"People lying everywhere,
"Crying, sobbing in the air,
"A hurrying, shouting, frightened mass,
"Blubbering and running for their lives.
"The dead have all been dragged away, but the blood
"Upon the ground tells of men who fought that day,
"And the last word they had to say."
We, as a family, were so lucky to have had Rick for 25 years; the memory of the joy he brought me runs alongside the pain of his not being here.
He was a decent human being, quick-witted, with a lovely sense of humour, generous with his time, fun to be with and sensitive to the needs of others.