Hillsborough stories: Francis Joseph McAllister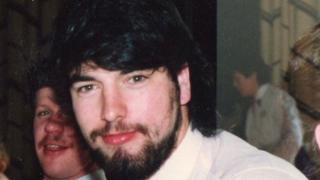 Francis Joseph McAllister was a fireman, originally from Liverpool, but working in London. He travelled on his own to Sheffield but met friends, all of whom survived except Nicholas Peter Joynes.
This is the full statement to the inquests from his brother, Mark McAllister:
Ladies and gentlemen, good afternoon. I am Mark McAllister, and I am hear to speak about my brother, Francis Joseph McAllister:
He was born on 10 October, 1961 in Mill Road Hospital in Liverpool. He was the third son of Francis Andrew and Veronica McAllister, and younger brother to myself and to Michael.
Our family was completed over the subsequent three years with the arrival of our two sisters, Anne Maria and Grace.
Although Francis shared his first name with his father, he was in fact named after two of his parents' favourite saints, as is common in Catholic families.
One of Francis's greatest gifts was that he could charm the birds out of the trees. At the age of 10, for some strange reason, he decided that he supported Chelsea, who were playing Stoke City in the 1972 League Cup final.
On the eve of the game, our father went out and bought the family's first colour television especially to watch the match.
If you were to ask anyone about Francis, the one word that they would all use to describe him would be 'generous'. The evidence for this is too numerous and too varied to list, but one early example is typical of him.
By 1974, Francis had seen the light and was a keen Liverpool supporter. That year, he got his first FA Cup final ticket. Now, we had a cousin who was not the most popular member of the family by a long way, but it was soon that he was going to be emigrating with his family to Australia.
Gave up ticket
Francis astounded everyone when he decided to give up his precious ticket for his cousin, who might never get another chance to see the Reds at Wembley.
Francis was particularly loved by the youngest and the oldest members of the wider family.
His four young nieces and nephews, one of whom is here today, looked forward to his visits which were always full of excitement, and he would have been just as popular with the other nine nieces and nephews who were born too late to meet him in the flesh.
His Nana, my father's mother, had a particularly soft spot for him.
When Francis died, indeed, our father was struck with anxiety as how he could break the news to his own mother, forgetting in his grief that she had died a few months previously at the age of 94, and the feeling between the two was mutual; Francis had wept copiously at the grand old lady's funeral.
'Larger than life'
Following two smart alec brothers through Canon Kennedy Primary School and St Edward's College was no easy role for Francis, as many other youngest brothers will testify. He left school after his GSCEs in 1978 and looked to forge a path in the world that was uniquely his own.
He tried a succession of jobs, but it was just in the last few years before Hillsborough that he really found his niche in the fire brigade. Not only did he become a valued member of the team at Manchester Square fire station in London, but he also made it into the brigade national football team.
Francis's influence and his friendships spread far and wide. Perhaps they were best summed up at his funeral, for which one of his many friends wrote and performed a song entitled 'The Man Who Was Larger Than Life'.
Looking back to when we McAllisters were children, when we were young, our family used to holiday in North Wales, like so many others from Liverpool.
One night, our mother had a dream that Francis fell into a river and was rescued by a policeman. The next day, Francis fell into a boating lake and only prompt action from our father saved him from drowning.
Our father died nine years after Hillsborough, always regretting that he had not been on hand to save his son one more time.