M25 widening: Camera tests in Kent and Surrey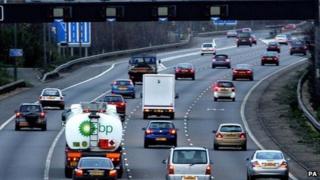 Infra red cameras have been tested on a stretch of the M25 in Kent and Surrey where the motorway is being widened.
The Highways Agency said construction work to convert the hard shoulder into a traffic lane had finished.
Engineers were still testing the technology and the scheme would open soon, spokesman Martin Potts said.
He said he could not give a precise date when the roadworks, which have a 50mph speed limit, would end. Work on the scheme started in May last year.
The "smart motorway" widening scheme, from junctions 5 to 7 between Sevenoaks and Redhill, will see the hard shoulder used as a permanent traffic lane.
Regularly spaced emergency refuge areas have been provided and CCTV cameras installed so the Highways Agency can spot incidents.
'New generation cameras'
Mr Potts said: "The whole length of the motorway with the extra lane will be monitored with cameras throughout.
"The cameras we've got are a new generation of cameras with infra red illumination, which means they're much much better at picking up images of the scene in the night-time where we haven't got road lighting."
He added: "[With] the work we did last night, early indications are that it went very well.
"There's clearly still a bit of back room stuff to make sure everything works smartly. But we're hoping to open shortly."