Thomas Allen A14 horse crash death 'waiting to happen'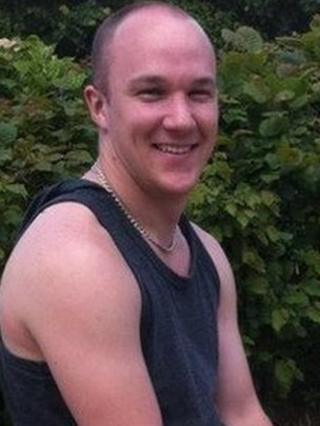 The death of man in a four-car crash when five horses ran on to a dual carriageway was an "accident waiting to happen", a coroner has said.
Horses being kept on adjacent land ran on to the A14 at Sproughton, Suffolk, on Christmas Eve in 2012.
Thomas Allen, 23, of Soham, Cambridgeshire, died in hospital of head injuries on Christmas Day.
Suffolk Coroner Dr Peter Dean heard the horses had got on to roads around Sproughton a number of times.
The hearing in Ipswich was told police arrived to find Mr Allen unconscious in his car after it collided with the animals.
The carriageway was unlit and Mr Allen would not have seen the horses until it was too late.
'Grave tragedy'
He had been driving to see his family with his girlfriend, who survived because she had reached down for something in the footwell at the moment of impact, the inquest was told.
The animals belonged to Stacy Humphrys, 27, who had been using someone's land without permission, which is known as fly-grazing.
On delivering his conclusion of accidental death, Dr Dean he said he would write to Rural Affairs Secretary Richard Lochhead to call for new legislation on fly-grazing.
Humphreys, of West Meadows, Ipswich, was jailed for two years and four months in March after he admitted causing a public nuisance.
Three horses were killed in the incident.
The court heard the Allen family had already suffered a "grave tragedy". Mr Allen was the cousin of Holly Wells, who was murdered by school caretaker Ian Huntley in Soham in 2002.