Car industry jobs in £31m government funding boost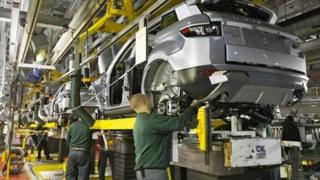 The motor industry in the West Midlands has been given a boost, with a share of £31m of government funding.
Eight employers will receive Regional Growth Fund money for new jobs.
Four of those - Aston Martin, MTCE, Maier UK and Sertec - are in the motor industry, which is seeing "tremendous growth", according to Staffordshire Chambers of Commerce.
The government said it expects the funding to be matched by private funds, to support up to 4,000 regional jobs.
The funding is part of £300m being given to 50 organisations in the UK, the Department for Business, Innovation and Skills announced earlier.
Staffordshire Chambers of Commerce will extend a grant scheme with £4m it has been awarded and is predicting this will lead to 900 new jobs within three years.
Its chief executive, Sara Williams, said grants were for all businesses - like hotels, manufacturers, insurance - but growth in the motor industry had been significant.
She said: "We're seeing the growth of JLR in South Staffordshire and JCB is growing at a tremendous rate. The knock-on effect into the wider supply chain is really good to see."
Plans to build a £350m Jaguar Land Rover facility were given the go-ahead by South Staffordshire Council in 2011 and last month the company announced its profits had doubled.
Another Regional Growth Fund recipient, car part manufacturer Sertec, said it plans to create 80 jobs at its Coleshill, Warwickshire, base with its £1.5m share.
Martin Hughes, Sertec's finance director, said the company needs to expand to meet growing national and international orders.
He said: "We're committing to creating a further 80 positions and safeguarding a further 25.
"We'd like to think we pick winner companies to partner with, we're very closely allied with Jaguar Land Rover and ride on their shirt tails."
Others to share the money in Birmingham, Coventry, Staffordshire and Warwickshire are:
Bournville College/Trinity Mirror Midlands
HydraForce Hydraulics
Sense and Sense International
North Staffordshire Chambers of Commerce
Skills and Enterprise Minister Matthew Hancock said the number of projects awarded funding was "a real vote of confidence for the region".
A recent report from the National Audit Office said more than three quarters of the fund remains unspent.