Dawn arrests over dozens of West Midlands burglaries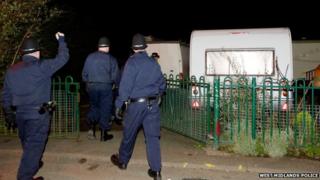 Four people have been arrested in dawn raids on suspicion of burgling nearly 70 homes in the Black Country, Staffordshire and Shropshire.
The break-ins, between October and February, have seen families specifically targeted for Asian gold, West Midlands Police said.
In some cases people have been threatened with violence.
Three men aged 21, 24 and 25 were held in Kingswinford and a man aged 48 was arrested in Heath Town.
Dragged around
In one of the burglaries, officers said, a woman in her 90s was dragged around her home in Wolverhampton.
West Midlands Police said about 100 officers, including colleagues from the Staffordshire and West Mercia forces, visited nine addresses at 05:00 BST.
They were supported by the force's dogs unit and the National Police Air Service.
Three of the men were arrested at a travellers' site on Oak Lane in Kingswinford and the other man was arrested at a property on Wolverhampton Road, Heath Town.