Frances Andrade suicide 'could and should' have been prevented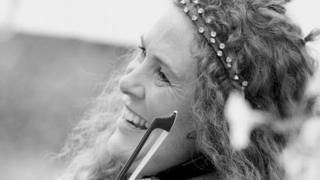 The suicide of a violinist days after she testified in court against an ex-choirmaster "could and should" have been prevented, a report has said.
Frances Andrade, 48, of Guildford, Surrey died during the trial of Michael Brewer and his ex-wife Hilary Brewer.
The pair were found guilty of abusing Mrs Andrade when she was at Chetham's School of Music in Manchester.
The serious case review found that she had been let down as an adult by mental health services.
The Surrey Safeguarding Adults Board called for criminal justice professionals to improve the support offered to sex abuse survivors and recognise their "vulnerability" when facing their abusers in court.
The board said mental health services should increase their alertness to the fall-out of sexual exploitation and the risks of suicide and self-harm.
The report also said that journalists, broadcasters and editors "should be mindful of the way a person's mental health and their credibility are discussed throughout court proceedings".
Mrs Andrade died less than a week after she gave evidence at the trial at Manchester Crown Court in January 2013.
The court heard Brewer, the school's choir director, carried out the abuse at his office and his home.
Mrs Andrade was accepted as a pupil at the school in the 1970s.
'Significant breach'
When she became disruptive in class, she was referred to see a psychiatrist and it was decided she should go to live with the Brewers at their home in Chorlton, Manchester.
During the trial, the violinist said it was the family she had always wanted.
However, she alleged Brewer was sexually abusing her at the time, both at school and in his house.
Michael Brewer, 68, and Hilary Brewer, 67, also known as Kay, were found guilty of sexually abusing Mrs Andrade when she was 14 and 15.
Brewer was cleared of rape and one charge of indecently assaulting the victim as a child in his home. He was jailed for six years, and his ex-wife was sent to prison for 21 months.
The ex-choirmaster was later stripped of his OBE awarded for services to music in 1994.
The review said Mrs Andrade was "let down" by mental health services who failed to realise how vulnerable she was as she fought to bring Brewer to justice.
It said: "The panel believes that Mrs A's abuse as a young woman at Chetham's School, the lack of attention that was paid to her safety and the failure to look into the protection of other young pupils who were also sexually abused by their teachers, marked a significant breach of child protection practice.
"We also believe that, as an adult survivor, Mrs A was let down by mental health services who did not appreciate how vulnerable she was throughout the process of bringing her abuser to justice and who did not put proper care co-ordination measures in place or adequately risk assess her increasingly serious suicide attempts.
"The panel considered that this was a suicide that could and should have been prevented.
"Mrs A had reasons to live and she continued to ask for help throughout this period."
Det Ch Supt Vanessa Jardine, head of Greater Manchester Police's public protection division, said: "On behalf of the force, I would like to extend once more our sympathies to the family of Frances Andrade.
"We are absolutely victim-focused and my officers work closely with specialist partner agencies to try to provide support to any victim throughout a criminal investigation and beyond.
"I must stress that it is our policy to encourage victims to seek whatever support they need."
Surrey Police said it accepted that "more must be done" to recognise the needs of vulnerable people in historical child abuse cases.
Assistant Chief Constable Stuart Cundy said: "The death of Frances Andrade was a tragic event and our thoughts continue to be with her family.
"Following her death, the force conducted an internal review of contact we had with her during the investigation in Manchester.
"As a result, we identified improvements to our information-recording practices and have issued further guidance on pre-trial therapy and support."