Retired Bishop Peter Ball 'too ill' to answer sex charges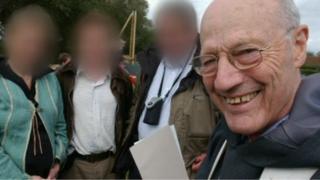 A court has been told a retired Anglican bishop is too unwell to appear in person to answer allegations of sex offences dating back to the 1970s.
The Rt Rev Peter Ball, who was bishop of Gloucester and bishop of Lewes in East Sussex, faces two charges of indecent assault and one of misconduct.
Brighton magistrates were given a letter by his solicitor saying the 82-year-old was not well enough to attend.
The case was adjourned to Lewes Crown Court on 23 May.
Bishop Ball is charged with indecently assaulting a boy aged 12 or 13 in 1978, indecently assaulting a man aged 19 or 20 between 1980 and 1982 and misconduct in public office between 1977 and 1982.