200-year-old recipe book heirloom given to family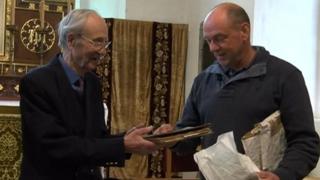 A 200-year-old book of handwritten recipes has been given to the author's great-great-great-grandson, 20 years after it was found at a car boot sale.
Bob Watson, of Heathfield, East Sussex, bought the 1811 house-keeping book in the 1990s.
Intrigued by its contents, he set out to find out more about its author and her family.
After piecing its history together, Mr Watson handed the book to Colin Peal, 90, of Castle Hedingham, Essex.
Mr Watson said he immediately wanted the book when he came across it at a Brighton car boot sale, and paid £50 for it.
He said: "It's dated 1811 at the front. It's all handwritten and there are a lot of recipes in there.
"It's a house-keeping book, really, and it obviously belonged to a large house.
"It details stocks and shares and has a lot on nutrition copied out by a doctor.
"The handwriting changes halfway through and I've since learned that these books were handed from mother to daughter and passed down over the generations."
Keen to find out about the family and what became of them, Mr Watson, 54, searched "on and off" for the next 20 years.
"The cover says 'receipts book' - apparently that was an old English word for recipe - and L Lampet.
"I've since found out that was Harriet Lampet, or a Mrs Lionel Lampet."
Unable to find anything on the Lampets, he had a breakthrough last year.
"I went on the computer and typed in one of the names in the book, Mary Weston, and it came up with her last will, from 1847.
"It's a really common name, but the will listed the names of several other people in the book, and said she came from Deddington in Oxfordshire."
'Finally paid off'
Deddington History Society stepped in, with member Jill Adams constructing a family tree to trace Mrs Lampet's oldest living descendant, Mr Peal.
"It's going to be kept in the family now, and looked after," said Mr Watson.
"It feels strange to hand it over - it's been a part of my life - but all the searching has finally paid off.
"It's amazing how a book can have such an impact."
The men met at St Mary the Virgin church in Great Bardfield, near Braintree, where generations of the Lampet family worshipped.
Mr Peel said he was "delighted" to have the book and the family tree created by Ms Adams.
"It's fascinating. I've got all sorts of documents on family history and luckily my mother and my grandfather retained a lot of the family background.
"Bob says it's quite valuable - but it's not the money that interests us, it's the sentimental value and what it means to the family.
"It's amazing what Bob did."