Jane Austen Literacy Foundation launches in Oxford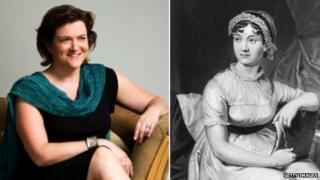 A foundation set up to champion literacy projects, created by a relative of Jane Austen, has launched.
Caroline Jane Knight has started the Jane Austen Literacy Foundation. The project will work to raise money to promote literacy around the world.
Ms Knight gave the group's first UK address at the Holywell Music Room, Oxford, earlier, in collaboration with the World Literacy Summit 2014.
The Pride and Prejudice author is Ms Knight's fifth great-aunt.
'Energy and passion'
Ms Knight, the last of the Austen family to be born and raised in Chawton, Hampshire, said the event was "an absolute success".
"[Afterwards] we had a lot of people come up to us. We walked away with some donations and about 20 volunteers," she added.
"We couldn't have asked for any more energy or passion. Obviously I hope Jane would be proud that we're doing something to make such a difference."
Sarah Gray, a delegate from Oxford who attended the conference, said the concept of the foundation was "fascinating".
"I'm going to donate to the foundation and see what else I can do to support the project," she added.
"It's amazing how relevant Jane Austen is to [women in] today's society."