Commonwealth Games: Baton-bearers for England leg revealed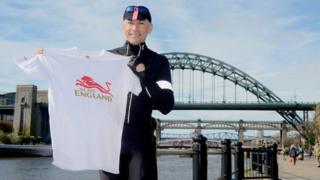 Triple jumper Jonathan Edwards and boxer Anthony Ogogo are among the baton-bearers for the England leg of the Commonwealth Games build up.
The Queen's Baton Relay is the curtain-raiser to the Glasgow games.
They will be joined by the current 400m Commonwealth Games record holder Iwan Thomas and Millie Knight, Britain's youngest winter Paralympian.
The baton will have been to 68 nations and territories before arriving in England on 31 May.
Edwards will be carrying the baton in Newcastle, while Ogogo will be in Suffolk and Thomas in Southampton.
'Get involved'
Professional cricketer Shiv Thakor, 20, from Leicester, said he was delighted to be one of the city's baton-bearers.
"I hope that local people turn out in numbers on June 10 to welcome the baton and show the world that we're getting behind the Commonwealth Games," he added.
As well as recognised sports stars, baton-bearers have been chosen for their contribution to sport in the local community.
Diveability founder Annie Clewlow, 57, will bear the baton in Southampton, after co-ordinating a diving programme to ensure every child in the city experiences a free diving session and creating the only disability diving programme in the world.
Basketball coach Tracie Colbron, 32, from Westbury-on-Trym, has been named as a baton-bearer in Bristol after she was honoured as the children's coach of the year for the West of England in 2013.
In Plymouth, wheelchair athlete Doaa Shayea, 15, will carry the baton. She is ranked in the UK top 10 in the senior age group for all four of her events and is seen as a role model for people with a disability.
The baton contains a message from the Queen to the Commonwealth that will be read out at the opening ceremony of the Glasgow Games.
Dame Kelly Holmes, president of Commonwealth Games England, said the baton-bearer would play a crucial part when the relay arrives in England.
"I'm encouraging everyone to get involved when the Queen's Baton Relay comes to your city - find out what event is taking place and if you can be there then please go and cheer on your baton-bearers and be part of the Team England send-off to Glasgow," she said.
The England relay will begin in Manchester and take in cities including Birmingham, Oxford and Hull before concluding in Northumberland.
Its journey through England is the final leg before it arrives in Scotland ahead of the Games, which start on 23 July.
The relay was launched by the Queen, in her role as head of the Commonwealth, at Buckingham Palace last year.
The first Queen's Baton Relay took place before the Cardiff games in 1958.