Extreme fundraising: Is it worth it?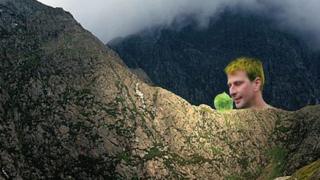 Charity fundraisers often risk their lives to capture the public's imagination. But are extreme challenges worth the pain for the sums such efforts raise?
"I am not an attention seeker - if I did not fundraise I would go mental with grief."
This is the emphatic response from marathon fundraiser, "Run Geordie Run" - aka Mark Allison, to a suggestion that ego may partly spur him on to carry out his epic cross-continent runs.
His most recent was across the Australian Outback when he raised £54,000.
The run took months to prepare and was so gruelling he almost gave up. So was it worth it?
He admits the three-month challenge was "overwhelmingly hard" and he will be lucky if all sensation returns to his feet by the autumn.
But he is adamant. "It was absolutely worth it," he insists despite the legacy of damage to his feet.
The list is a long one - the fatty balls of tissue in his soles have been displaced, his tendons and bones are damaged and there are also pockets of painful fluid in his ankles.
He also had to contend with a limp for months.
In fact, if it was not for a local podiatrist giving him hours of free treatment a week he would have a medical bill of thousands of pounds.
The 42-year-old software engineer of Blyth, Northumberland, has spent 20 years raising funds in memory of his father Terry, who died of cancer in 1988; his mother who died of lung cancer in 1995 and his brother, David, who died after a brain haemorrhage in 1998.
"If I wasn't doing this I would be wallowing in grief - it is years since I lost my family but I think of them everyday. The grief is immense. I am motivated by a debt of gratitude to charities because of the support my family received."
He has raised almost a quarter of a million for the Sir Bobby Robson Foundation cancer charity and the Children's Foundation and is determined to raise more money next year.
A celebrity's name associated with a charity can turn potentially thousands of pounds into millions.
In 2008, former England manager Sir Bobby set up his foundation just before he lost his fifth battle with cancer.
PR manager for the foundation Liz Luff said she does worry about the increasingly daring and risky challenges people set themselves.
She always quizzes would-be money makers about their safety and the charity does not endorse sky-diving and bungee jumping. Also she said it was rare people failed a challenge.
She said: "Thankfully, it's very rare that a fundraiser is unable to complete an activity.
"We had fundraisers who set up a 24-hour football match that had to be abandoned on safety grounds due to appalling weather.
"But everyone who had sponsored the players felt they had done enough to justify the money.
"But the foundation would always ensure money was returned to a sponsor if they didn't feel that way."
Hardcore fundraiser and father-of-three Stuart Kettell, spent last week levitating in various locations across Coventry. For 10 hours a day he "floated" in the air as passers-by tried to work out how he was doing it.
The stunt raised £3,000 for Macmillan Cancer, but at one point he had to "come down" and walk around.
"I lost all feeling in my lower body and had pains in my heart, but after walking around for a few minutes I was fine."
He has raised more than £36,000 since 2006 and hopes to raise £10,000 for Macmillan Cancer Support this year.
The levitation stunt raised £3,000 and was designed by Mr Kettell himself using sensors and magnets, but he does not want to give away much more than that.
And he is very proud of coming up with the idea for his latest "money-spinner" - in the summer he will push Brussels sprouts up Mount Snowdon with his nose.
He said: "I always do very visual challenges.
"Four years ago I lived in a tiny box for one week suspended by a crane - that was hard, but there was no let up in people's generosity - even homeless people were giving me donations.
"You need to go that extra mile to capture the public's imagination."
Does it bother him that celebrities make millions for charity just by virtue of their name?
He said: "It doesn't annoy me because at least the money goes to the charity, but it does make me feel despondent sometimes with all the effort I have to put it in to raise a few thousand."
To kick-start his fundraising, Mr Kettell always gets a corporate sponsor and advertises its logo. He has already started "training" for his sprout challenge and believes he will need to carry 100 of the vegetables in a back-pack to see him through.
He will spend hours crawling around on hills with a heavy back-pack, as well as putting a few hours in at the gym.
The reason, he choose Macmillan is two-fold - the charity supported some of his friends through cancer and as a cameraman he has also filmed many patients talking about their experiences and was moved to help.
"What motivates me more then the ego is people's cancer stories and how Macmillan has helped them," he explains.
Butterwick Hospice Care in Stockton, runs three hospices.
It provides care for more than 2,000 North East patients a year and needs to raise £3m a year to keep afloat.
Marketing manager Jackie Firth said staff and volunteers regularly had sleepless nights about money.
She said: "It is damned hard work, we often say 'What are we going to do?' it is such a tall order to raise £3m a year."
'Constant fear of axe'
The hospice has 13 shops that raise more than £325,000 a year as well as a weekly lottery which raises £650,000 a year.
She said hospice staff and volunteers lived in fear that they would not meet targets and the charity would be axed leaving terminally ill patients and families without vital support.
To stop this happening, Ms Firth said publicity has to be constant to keep cash trickling in, but this was challenging because hospices were perceived as not leading to a "happy ending".
She added: "Nothing could be further from the truth - all you need to do is go and chat to patients and families about the care they receive."
Now back home Mr Allison has continued to keep his followers on Twitter updated on his recovery after his latest Run Geordie Run challenge.
Despite the pain he has endured over the last four months since finishing in January, "Oz was just a warm-up" he says.
What could beat running across Australia or the US? The world perhaps. But he is staying tight-lipped for now.