Animal rights activist Debbie Vincent jailed for blackmail plot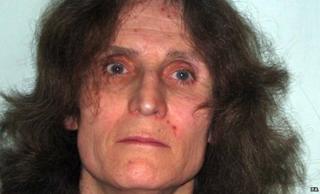 A woman convicted of being part of a blackmail plot against customers of an animal testing company has been jailed for six years.
Debbie Vincent, of Bristol, conspired with members of Stop Huntingdon Animal Cruelty (SHAC) to target Cambridgeshire firm Huntingdon Life Sciences (HLS).
The Hampshire-based group published names of firms linked to HLS, knowing they would be targeted by activists.
Vincent was involved with the group between 2001 and 2011.
At Winchester Crown Court, her defence lawyer said that because media coverage of the trial included details of her being a former soldier who had undergone a sex change, she would find it "extremely hard to endure prison".
Vincent used to live in Pampisford Road, Croydon, south London, but now lives in St Marks Road, Easton.
The trial heard protesters targeted suppliers and customers of HLS, accusing staff members of being paedophiles, sending incendiary devices, posting sanitary towels claimed to be infected with Aids and causing criminal damage to people's property.
Passing sentence, judge Keith Cutler, said SHAC had used "extreme and criminal measures knowing the fear and terror they'd cause".
Mother's ashes stolen
The activists, he added, seemed to enjoy creating such terror and Vincent had expressed "no shred of remorse".
The trial heard she worked alongside SHAC's ringleaders, Greg and Natasha Avery, at their headquarters in Little Moorcote, near Hook.
There she was given access to the computer used to co-ordinate the illegal activities.
The pair were among seven defendants jailed for a total of 50 years in 2009 for their part in the conspiracy.
Michael Bowes QC, prosecuting, said the aim of their campaign was to put HLS out of business through cutting off its suppliers by creating a "climate of fear".
One target of the activists had the grave of his mother dug up and the urn containing her ashes stolen and never returned.
Vincent's involvement became more substantial following the jailing of the Averys and the others, and she was arrested in 2012.
The court heard there was no evidence Vincent was actually present at the scene of the attacks.
But, Mr Bowes added: "She was however a knowing participant in the conspiracy to blackmail which did involve these attacks."
Judge Cutler said: "I come to a conclusion you are a lady of very good character.
"Indeed, if it wasn't for your complete obsession with your cause and an inability to accept its limits within law, there was so much good you have been able to do for other people you have met in your life and for all the animal welfare work you have done."
James Wood QC, defending, said Vincent was suffering health difficulties and had lost her sister shortly after the trial.
Describing her as "vulnerable", he said: "Prison for her is going to be extremely hard to endure.
"The publicity which surrounded this trial focused upon that feature of her background that was unique and unusual and the very frank way in her evidence she spoke of that background identifying in graphic terms her former role as a male soldier, her marriage and fathering of a child."