Fatal crash cyclist Junior Heffernan was 'doing 40mph'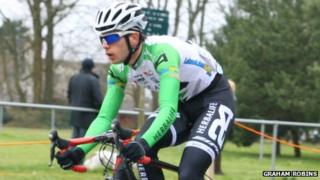 A keen amateur cyclist suffered fatal injuries when he crashed into an oncoming car while travelling at more than 40mph during a race, an inquest heard.
Junior Heffernan, 23, from Yelverton in Devon, was taking part in the Severn Bridge Road Race in March 2013.
The inquest heard he veered on to the wrong side of the road as he raced down a steep hill and struck the car.
The coroner recorded a conclusion of accidental death.
Hit the windscreen
The inquest in Flax Bourton, Somerset, heard Mr Heffernan was unable to rejoin the correct side of the road because it was packed with other cyclists, and so he attempted to ride around the oncoming vehicle.
But he was thrown onto the windscreen when the front wheel of his bike struck the car.
The inquest heard Mr Heffernan had reached speeds of 46.5mph (74.8km/h) seconds before the crash.
Assistant coroner Terence Moore said: "It is fairly obvious to me that, on approaching the left-hand bend at the bottom of this decline, the lead riders began to slow slightly.
"The effect of these lead riders slowing is a knock-on effect. With that compression, Junior and another rider were moved out into the right-hand lane."
He said Mr Heffernan saw the car at the last moment and tried to "avoid a collision by veering to the right".
'Don't cross the road'
Nigel Thomas, who was driving the vehicle, said: "I saw two cyclists come out from the group and to my side of the road. I immediately braked and the first rider looked up and moved back into his lane.
"The second rider was not going to miss my car."
Mr Thomas was driving at about 15mph (24km/h), the inquest heard.
Roads are open to traffic during the race but the cyclists are positioned behind motorbikes and vans, which warn drivers of their presence.
Richard Jarrold, of Bristol Road Club, which promotes the race, said the full risk assessments had been carried out, the weather was fine and the road surface approaching the scene was "reasonable".
"The advice is you don't cross the road, you stay on the left-hand side of the road, but it is a race - that doesn't always occur," race organiser Brian O'Kelly said.
About 80 riders took part in the 41st Severn Bridge Road Race, which is a six-mile (10km) looped course around Olveston in South Gloucestershire.