Tour de France 'could help farmers make money'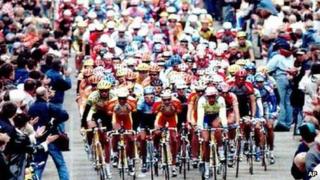 Farmers in the east of England have been urged not to miss out on business opportunities presented by the 2014 Tour de France.
The third stage of world-famous cycle race goes through Cambridgeshire and Essex en route to London on 7 July.
Farmers could use some of their land set aside for conservation as car parking or campsites, the Country Land and Business Association (CLA) said.
However, special permission would have to be sought from Natural England.
'One-off opportunity'
Nicola Currie, the CLA's regional director for the East, said Natural England had specific guidelines for how land set aside for environmental reasons or as Sites of Special Scientific Interest was to be managed.
But permission could be given to change the use of the land for a temporary period, she said.
"Normally these sites are managed very specifically to help the environment," Ms Currie said.
"But the Tour de France is a particularly special one-off opportunity on 7 July and it would be good to get everybody to take part."