Hillsborough stories: Vincent Michael Fitzsimmons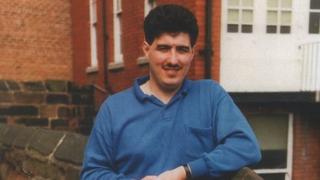 Vincent Michael Fitzsimmons was a divorced father from Wigan, who travelled by coach with friends who all survived,
This is the full statement to the inquests from his sister, Dr Dorothy Griffiths.
Hi son, Craig Fitzsimmons, also read out a pen portrait of his father to the inquest.
I am the sister of Vincent Fitzsimmons, who died at the Hillsborough disaster on 15 April, 1989. He was 34.
I make this statement at the request of the coroner with a view to providing some personal background about my brother.
As humans, we are all made up of many different parts and we react according to the situation and the people involved. This story is about my beloved brother Vincent and is my personal recollections of our all-too-brief time together.
His death left an enormous chasm which can never be filled, as well as biting, daily pain.
For some of my family, talking about Vincent is just too distressing, and for others it is too late, as they have now died, taking with them their own memories of Vincent.
'Distressed'
The story you are about to hear are some of my personal mementos about our time growing up together in Liverpool. They are brief and they are mine alone, and, therefore, only touch on his many qualities and strengths.
The story is in two parts. The painful journey we are on started a long time ago, on a wonderfully bright, sunny Saturday afternoon. I had switched my television on for some unknown reason, as I don't usually do this.
Images began to flash across the screen and the commentator's voice became increasingly agitated and distressed. I took notice, and realised that something horrible was happening at the football match.
I dialled Vincent's number and was so relieved when a man answered. Not registering the voice, I said: 'Thank goodness you didn't go, Vincent. Have you seen what's happening at the Liverpool game?'
The man answered and I immediately realised I had dialled the wrong number. I dialled again and spoke to Vincent's partner and the nightmare started to unfold. He had gone to the game.
New baby brother
By a strange and horrid quirk of fate, he had misplaced his ticket and thought he would have to miss it, but, sadly, found it in time to catch the coach.
The second part of this story goes back even further in time, to the 1950s. I was six years old and living with my mum and dad in Liverpool. I can remember my dad talking about the new baby and saying we had to choose names for it.
I chose Archibald, which, for some reason, I found extremely funny, and I would giggle every time I said it.
I can remember the day Vincent was born. The midwife had arrived and left her bicycle propped up on the pavement outside where we lived. I had assumed that the baby was transported to us in the little saddle bag at the back of her bicycle seat.
It was January, and dad and I were in the living room in front of a roaring fire. I can remember hearing a baby and my dad started to crying, say, 'You have a little brother'.
Vincent was put in my big doll's pram and wheeled into the living room. My pram, a very swish Silver Cross, was the strict domain of my lovely dolls, so I can remember feeling very annoyed that Vincent was lying in it.
'Bubbling with energy'
The midwife said I was a very lucky little girl, but I wasn't too sure myself.
The impact of Vincent's arrival into the world was tremendous, and I would be wrong to say that I didn't struggle with suddenly becoming a big sister. I had to grow up quickly, and felt resentment about him at times.
From day one of his life, Vincent had a passion for living. He was full of bubbling energy and could talk the hind leg off a donkey, which drove me insane at times.
As siblings, we had our ups and downs as all children do, but we spent a lot of time together throughout our childhood.
I have many wonderful memories of him, too many to share here, but I have chosen a few to try to give you a little insight into his character and personality. We had two grandparents, grandma, from our dad's side, and granddad, from mum's family.
Grandma lived in Walton and was so easy going and soft natured. You could do anything in her house and she wouldn't mind a bit.
Vincent loved the piano in the front parlour and would happily bang on the keys and stand on the chair. It was fine.
Grandad, on the other hand, was much more strict and dour. He loved us but believed that children should be seen and not heard.
'The Lone Ranger'
His front parlour was immaculate. He owned the most beautiful ornate black piano covered in gorgeous patterns. We weren't allowed to touch it. It was like a magnet to Vincent and, being the big sister, it was my job to keep an eye on him while mum helped granddad in the house.
He would put his fingers all over the top of it leaving fingerprints everywhere. He would open the lid and start banging on the keys, much to granddad's annoyance.
In order to keep Vincent amused, we would play our favourite game, buses. This entailed him sitting on the bottom step of the stairs and driving the bus. I was always the passenger and had to get on and off at different stops.
He loved playing this game, but always insisted he was the driver and I had to pay the fare money.
The 1950s heralded the introduction of television and we got a set when I was seven. In those days, programmes for children were very restricted, but one of our all-time favourites was The Lone Ranger, a masked cowboy with a Native American partner called Tonto.
Every week The Lone Ranger would be involved in helping someone in some heroic way. Cowboy films were so popular and Vincent and I loved them. One of our favourite games was to make a wagon out of mum's clothes maiden and pretend to set up camp.
I was always one of two characters: a marauding Native American out to attack the wagon train or a mother with lots of children (my dolls). Vincent was The Lone Ranger, taking charge of the wagon train and fighting the baddies.
His horse was the arm of the settee and off he would go, ready to save the world.
Even at that young age, Vincent's qualities were emerging. He loved to help other people and was always passionate about whatever he was doing.
Every day was a big adventure and he took the best of everything he did in life. football and Liverpool football team. Whenever he could, he would play with a ball. It was one of his overriding passions in life and he didn't seem that interested in any other sports.
'Off to prison'
He didn't learn to swim for a long time, even though we had started going on beach holidays and wanted to venture into the sea. This situation changed dramatically one summer.
I was at home while mum was at the shops and Vincent came in absolutely soaked to the skin. He had been playing on the nearby canal bank and had fallen in. Luckily, a local man had been passing and had pulled him out of the water; otherwise, I fear he would have drowned.
Vincent was in a panic when he got home, as we were strictly forbidden to go near the canal. Stupidly, without thinking, I told him to go and get changed into fresh clothes and then I hid his wet things at the back of the larder in the kitchen, obviously not thinking they would be found.
Mum quickly retrieved them the next day and I had to admit what had happened. However, dad had also found out as a neighbour had stopped him and said what a lucky escape Vincent had had.
Dad went straight around to the man who had rescued him to thank him for what he had done. Unbeknown to us, he also stopped off at the police station and spoke to the sergeant on duty.
When dad got home, he questioned Vincent and told him to go and pack his things, as he was going to the police station and might go to prison.
Vincent had to come and say goodbye to mum and me. It was heartbreaking, as I felt I had let him down. It was tough love as the sergeant gave Vincent a good telling off and said that he wouldn't go to prison if he learned to swim.
'Ready for adventure'
As with everything, Vincent gave his all and was soon a really wonderful swimmer. He said afterwards it was the best thing dad could have done for him.
Vincent was always so popular because he was friendly, never took offence at any time, and had a passion for life. In lots of ways, he wore his heart on his sleeve and could get into scrapes without thinking.
He served as an altar boy for a long time in our parish church, The Holy Ghost, and was in the Boy Scouts. He was always ready for adventure, and I can never remember him ever being tired or downhearted.
He would be up at six o'clock and ready for the day, even if it involved going to school. I don't ever remember him complaining about having to do homework or jobs. He just got on and did them.
When he had started secondary school, he had gone with his mates for a walk into the village. There was an ironmonger's shop which had lots of things hanging outside, such as spades and forks and bags of compost and bulbs for the garden.
The boys were horsing around and a couple of them grabbed some mop heads out of a bin and began to throw them to one another. The shopkeeper was obviously irate and came out to shout at them.
One of Vincent's mates threw a mop head to Vincent and then they all ran off, except Vincent, who stayed to hand the mop head back to the shopkeeper.
Off to America
The shopkeeper was not amused at all and called the police to report Vincent and two officers called at our house later that evening to speak to dad and gave Vincent a telling off and a caution.
I felt sorry for him, as he was the one who had not run away. He told me he'd apologised to the shopkeeper, but he was obviously so upset with the boys messing around outside the shop every lunchtime.
When Vincent was 14 he went to live in the United States with mum and dad. I had, by this time, married and I had a young baby, so I stayed behind in Britain. It was difficult for him to leave his friends and everything familiar, but he took it all in his stride and was excited about living in a new country and having new experiences.
Nothing ever seemed to worry Vincent as he relished every moment and always seemed to get the best out of every part of his life, even when times were tough.
Initially, he had a rough ride in Seattle, where mum and dad settled. He told me that at high school there he had been bullied by some boys in his year until he finally stood up to them and they backed off.
After that, he made lots of friends and said he thoroughly enjoyed his time there and in Chicago, where they lived for a little time. He learned to drive and would help dad out when he was working on painting and decorating jobs.
'Hard working'
He also enjoyed playing American football, but said it never took his love away from our football and he always followed the fortunes of Liverpool football team whilst in the USA.
When they decided to come home, dad told me that there were lots of friends who were so upset at the thought of him leaving.
When I think back, it must have been hard for him and so unsettling, but when I met him when the ship docked, he was his usual cheery self and happy to see us all.
On his return, he did some work as an apprentice in Liverpool and eventually settled into the plastics industry where he did very well. Vincent was so hard working and thought nothing of working 12-hour shifts, seven days a week.
We always said that he took after mum, in that he was a keen saver, whereas I was like dad and enjoyed spending money.
He enjoyed work and being with all his mates, but also had many other interests in life. He was a keen photographer and saved for a really good camera and he had taught himself to play the guitar.
'Passion for Liverpool'
He enjoyed cycling and was very keen to keep himself fit and trim. He also had a great love for caravanning and travelling. He would go anywhere, always ready for new places and adventures.
As stated earlier, his passion for football and Liverpool Football Club never wavered. One of the last times I spoke to Vincent, he told me of his great sadness when he had to get rid of all his Liverpool programmes which he had collected for many years, he really regretted doing this and wished he could have kept them.
He played in goal and was never bothered about how many goals he didn't save, saying it was taking part in the game, not the overall score at the end which matters. He loved being part of a team and playing his part to the best of his ability.
The memory of the last time I met up with Vincent is etched on my soul. We had lunch together, just him and me, and we spoke about many things from our childhood.
He had recently been to London for an interview which, although he hadn't been successful, had helped him come to a decision about his life. Vincent hadn't told anyone else, but he was determined that London was the place he was going to settle once he completed his studies at night class.
He loved the fact that he had returned to education and was doing so well. He wanted to carry on to his degree and get a job in the City.
'Nightmare journey'
We had enjoyed some holidays in London and I have some lovely photographs of us in Hyde Park on a glorious summer day, both of us in our Sunday best clothes. We both loved being there and both share a love of London.
Vincent and I had talked about how the future would look, he in London and me visiting and staying with him.
He had thick, curly, black hair and I noticed some grey on his sideburns. I tickled his ear and told him he was starting to go grey. He laughed and said, 'No, not grey, distinguished'.
Apart from speaking with him on the telephone, Vincent and I never managed to see each other again. We were planning to meet later that April, but it wasn't to be.
The final part of this story returns to that fateful day in April in 1989 when Vincent didn't come home to us and the start of the nightmare journey, which has been part of our family ever since.
The memories I have shared are only a tiny part of Vincent's life and I have many more, too numerous to go into here. Those I have talked about may seem trivial, but they are so precious to me.
'Passion for life'
Many other people also have their memories of him. Put them together and you have a picture of a wonderful man, who was kind and caring to a fault. He had such a passion for life, taking each day as if it were his last, enjoying every minute.
Vincent had many dreams and wanted to further educate himself and build a better future in London. He always tried to see the best in people and, if I ever moaned about anyone, he would always have something positive to say about them.
If he had lived through the disaster, I know exactly how he would have been. Obviously he would have been sad about the loss of life and angry about the media coverage, but overall he would have really wanted to understand why it had happened, who was to blame and what good could come from it.
He would have championed all those people who had tried to help that day, including many of the police and all the emergency services.
If I had to sum up Vincent's many qualities, I have to say he was a brave man in every sense of the word. He would always stand up for injustice and the underdog.
He had a really quirky sense of fun and loved socialising with his friends and family. He was also a very private man, who thought deeply about life and the impact of events happening all over the world.
He had his faults, like every one of us in this world, but his generosity of spirit always shone through. Most of all, though, to me he was a wonderfully caring brother whom I miss each and every day.
If I was to be granted one wish, it would be to have a few more minutes with him, to tell him I love him, and he will never be grey, just distinguished.