Hillsborough stories: Christopher Edwards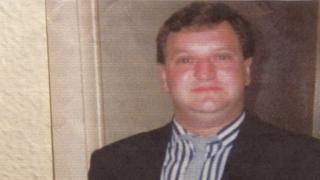 A steelworker from South Wirral, Christopher Edwards travelled by car with friends, including Malcolm Ramsey, who survived.
This is the full statement to the inquests from his father, Sydney Edwards:
My son, Christopher Edwards, was born on 11 May, 1959. He was our first born and he was followed by his sisters Gail and Anne. Chris was 29-years-old when he was taken from us.
Chris mixed extremely well with the children in the neighbourhood and at our church.
Chris and his siblings went to church every Sunday and sang in the choir, Chris becoming head choir boy.
He had a beautiful voice, which we did not appreciate until he sang Silent Night at our social club's Christmas lunch. He must have been 11 or 12 at the time.
Towards the later part of Christopher's secondary education, he joined a small musical group and performed at school shows.
Chris loved spending time at church and enjoyed ringing the church bells with his sisters, according to our daughter Anne, they swung off the ropes like monkeys.
'Dry humour'
As Chris spent a lot of his time at church, he often looked after the local parishioners' children. His sisters describe how he watched football in the vicarage with the vicar, while the other kids enjoyed themselves around the church pews and in the aisles.
Chris had such a dry sense of humour. I remember an occasion when we were all sat in church and Chris popped up and said to us all, 'My name is on that wall'.
My heart dropped, as I thought he may have written his name on the church wall with a marker pen, but what he was actually referring to was the names of the saints on the stained glass window, one of which was St Christopher.
Religion was important to Chris, and he was still very close to his friends from church at the time of his death.
Chris was well liked at school. He achieved good academic results throughout his school. His final report stated that he was 'a pupil on good terms with his fellow students, teachers and achievements'.
After leaving school, Chris gained a position as a junior laboratory technician after many interviews and obtained a senior position after four years working and studying. We were very proud of his achievement.
'Loved Anfield'
Chris's love of football came from me. I introduced him to the game by taking him to see Liverpool around the age of eight or nine, years before he became an avid supporter. I, along with a group of other dads, took our sons to the match after work on a Saturday, and Chris got the bug from that point.
Anfield truly became his second home. As Chris grew older, his support for Liverpool took him abroad to the away games. He even went as far as Canada, where our 21 relations were.
Chris was the type of person that would never miss an opportunity and made the most of his life, quietly enjoying it as he went along. Being able to travel abroad and watch his favourite team was just one illustration of that.
Chris was also a fan of playing video games. As a teenager, and when computer games became all the craze, he played on his game console and listened to music on headphones as a way to relax.
Music was another joy in his life. Like any other lad of that time, he liked the up and coming music, like Status Quo, The Weird and Wonderful, The Communards and The Flock of Seagulls.
I remember him sitting in the living room and recording the Top 40 by holding a microphone to the radio. As he got older, he joined a record club and had an ever-increasing vinyl collection, which today is in our loft at home.
'Spoilt rotten'
He was such a skinny lad, though he loved his food, and especially his mother's cooking. He used to make us laugh because when he went to his the Chinese and ordered a meal, he always used to ask for a small packet of chips so he could eat them on his walk home before the main meal.
It was ironic, because we only lived 70 yards away. The owners sent us a condolence card after Chris's passing and for weeks we couldn't work out who it was from. It just goes to show how well he was liked.
Chris was the apple of his mother's eye. He was not only her only son, but the first born in two generations.
His nan shared this precious love of him and spoilt him rotten. Nothing was too much for our Chris, and even his sisters shared the same sentiments, with him running to Anne's house to get his washing done and Gail to cut his hair.
That being said, Chris was always there for them in return. Chris was a witness at his sister's, Anne's, wedding and godfather to her first child, Kelly.
Anne recalls the time when she miscarried and Chris came to the hospital with a bunch of fuchsias and a box of Milk Tray. He also kept her company when she went through a divorce from her husband, by taking care of Kelly and joining them on holiday.
'Cherished memories'
This allowed Anne time to get to know him all over again.
During his 20s, Chris got into golf and eventually travelled all over the world playing with his friends, but it was also something we shared together.
Every Monday we would play together at the local course. It was our time, memories that I will cherish.
I would tease him and ask him when he was going to get married, but he always said, 'Not yet'. His mother and nan always gave me a ticking-off when I asked our Chris whether he was ever going to tie the knot.
As much as it was a joke then, I often wonder to this day about the family life he could have had, had his life not been cut short.
The only comfort I have is that Chris experienced what it was like to be loved, and lived his life to the full.