Lower Thames floodplain 'expensive' says prime minister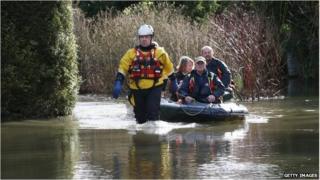 A planned Thames flood defence scheme is "expensive" and being looked at "very carefully", David Cameron said.
The £256m Thames floodplain scheme was first proposed in 2003 to protect 20,000 properties.
The prime minister told BBC Surrey he had put ministers "in charge of co-ordinating the response" to flooding.
UKIP said they were "talking shops". The Greens, Labour and Lib Dems said the government had failed to apply for EU funding after the floods.
Under the planned scheme, large-scale engineering work would be carried out to build a flood channel and improve three Thames weirs, along with smaller schemes to provide local defences and improve flood response plans.
There was a potential contribution of £136m from Defra, and an expectation that the rest of the funds would be found locally.
Mr Cameron said: "We are looking very carefully at this flood alleviation scheme.
"It's an expensive scheme. I've put distinct ministers in charge of co-ordinating the response in different parts of the country."
'Words ring hollow'
Diane James, a UKIP councillor on Waverley Borough Council, said: "All the prime minister can tell us is that he's got a lot of ministers talking shop.
"He's not finding the money to address the issues."
Keith Taylor, Green Party MEP said: "We need to look at the whole river system. We need to ensure we are not flooding other places.
"David Cameron's words ring very hollow when he is overseeing cuts to the Environment Agency."
Antony Hook, Lib Dem MEP candidate, said: "Road gullies need to be cleaned more often and we need to plant more trees which absorb water."
Anneliese Dodds, a Labour MEP candidate, said: "We need to have long term schemes. We need to see much stronger action from the coalition."
Mr Taylor, Mr Hook and Ms Dodds, speaking to BBC Surrey, all criticised the government for not applying to the European Union's solidarity fund which awards grants to areas affected by natural disasters.