East Midlands naval and marine reserves in parade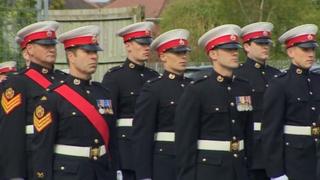 A rededication parade has taken place to mark the re-housing of the Royal Naval Reserve (RNR) and Royal Marines Reserve (RMR) units in the East Midlands.
HMS Sherwood RNR, and the Nottingham Detachment RMR Merseyside, are now based with the Army Reserve at Foresters House in Nottingham.
The £1m project to renovate the base took nine months to complete.
The event took place at the centre in the presence of Prince Michael of Kent.
Simon Elmore, a 27-year-old teacher from Rutland, was chosen to meet the prince, who is the Honorary Rear Admiral and Commodore-in-Chief Maritime Reserves, during the parade.
Mr Elmore had earlier said: "We are all looking forward to taking part in the rededication event and it will be an honour to meet His Royal Highness.
"The new training facilities are great and will hopefully help us as a unit to expand the number of reserves we currently have serving with the unit."
It is hoped the new facilities will help enlist about 70 new recruits from the East Midlands to HMS Sherwood over the next three years.
The new complex has improved training facilities, modern office space and room for expansion.
The two-hour parade included music from The Band of Her Majesty's Royal Marines Portsmouth and marching platoons from the RNR, RMR and local Sea Cadet units.