Fight against Yorkshire's pennywort weed declared success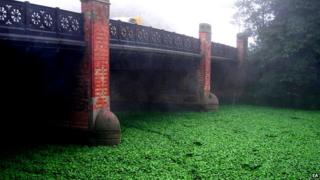 The fight against an invasive weed that has choked up South and West Yorkshire's rivers has been declared a success.
The Environment Agency said floating pennywort forms "a dense mat" that starves native species of light and oxygen.
It has particularly affected parts of the rivers Don, Calder and Colne.
The weed, native to the US, came to the UK in the 1990s and spread after people dumped it from garden ponds.
The Environment Agency launched a campaign to tackle the weed in 2012 and aims to eradicate it completely from Yorkshire by 2015.
'Huge mats'
Andrew Virtue, the Agency's biodiversity technical officer, said the weed thrived in slow-flowing waterways where it spreads into huge mats of vegetation.
"There are a few other species that are similar to floating pennywort but none are as aggressive," Mr Virtue said.
"Left untreated, it can threaten the quality and status of a watercourse and can damage ecology. It also hampers boats and prevents fishing. It's important that we keep fighting it."
Mr Virtue said a weed-killer, which is safe to other aquatic organisms, was used on the pennywort.
Elsewhere in the UK, scientists have used weed-eating weevils to get rid of invasive water plants.