Hillsborough stories: Paul Anthony Hewitson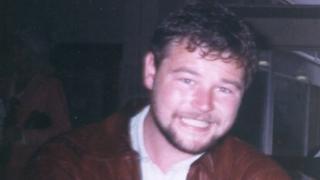 Paul Anthony Hewitson was a roofer from Liverpool who travelled by car with several friends, who all survived.
This is the full statement to the inquests from his sister, Tracey Phelan:
Paul Anthony Hewitson was born on 18 September, 1962. He was the eldest and only son to Suzie and Billy. He also had two younger sisters, Tracey and Debbie.
Paul was a handsome, witty, charismatic young man who was a wonderful son and brother.
He was loved and adored by many.
Sport played a massive part in Paul's life. He was active and physically very fit.
He represented his high school in cricket, football and athletics, often breaking and setting new school records.
He amassed an extensive collection of medals, trophies and awards. These adorned our house for many years.
He successfully completed trials for Everton Football Club but his loyalty and passion for Liverpool FC affected his commitment to the Blues.
Suffice to say, his dream of becoming a footballer never transpired.
'Planning their future'
He also passed the recruitment and completed the intensive training for the Royal Paratroops Regiment, but he chose not to pursue this.
Shortly before Hillsborough, he had just established his own small roofing business.
He was motivated and hard-working and he was building a good reputation within the local community.
He enjoyed a long-standing relationship to a wonderful woman, Bernadette, and they were planning their future together.
That Saturday morning, I watched our Paul singing whilst ironing his good shirt and pants, excited at the prospect of going to the semi-final, but equally looking forward to meeting his girlfriend after the game, as they had planned to go for a meal.
Unfortunately Paul's dreams of a family were never fulfilled and his aspirations were never achieved.
Paul was extremely popular and well liked. He had a large group of brilliant friends and cousins, all of whom were devastated by his death.
He was a loving, approachable young man and, like any typical 26-year-old, he loved to socialise with his friends.
He was a massive music fan with a very diverse taste in music. It ranged from Bob Dylan to punk rock.
He would often play his music at full volume, much to the frustration of our mum and dad.
He passed his driving test at 17. His incentive for saving, even as a young boy, was so he could take his mum for her weekly shop.
'Heart broken'
Paul brought so much laughter and fun and love into our family. We were truly blessed to have him in our lives.
Each year, as 15 April drew closer, we would see our mum and dad's sadness increase and the grief that was so clearly etched onto our little mum's face would become more apparent.
Her heart was broken and it remained broken for the rest of her life. I imagine no parent ever recovers when they lose a child, especially one lost in such horrific circumstances.
Paul was, without doubt, the apple of his mother's eye. He was the light of her life.
On 15 April 1989, we not only lost a wonderful brother, we also lost a mother. Eighteen years later to the day, she, too, passed away.