Hillsborough stories: Peter Andrew Harrison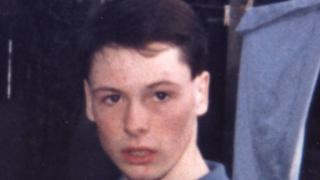 Peter Harrison was a Liverpool FC season ticket holder and a schoolboy from Liverpool. He travelled to the match with friends, who all survived.
This is the full statement to the inquests from his mother, Patricia Harrison:
This statement is made on behalf of the whole family, including Peter's brothers, Stephen and Michael.
Peter Andrew Harrison was born on 4 May, 1973 at Broadgreen Hospital.
He was the longest baby I had ever seen.
Peter was 6ft 4in when he died and I wonder how tall he would have ended up.
He was born the day before cup final day between Sunderland and Leeds, and I remember watching some of the match with the nurses. It was fitting, as football was to become an important part of Peter's life.
He was christened at St Luke's Church, which is also where he was buried.
Peter was a very good baby. I was not married when I had Peter and it was just the two of us for the first seven years. This meant that he was my friend.
We lived with my parents for the first year after Peter was born and then we moved to a flat. We were very, very close and I hardly ever went anywhere without him.
For a while, I had a job cleaning in a pub and, when I was working, my mother would look after Peter.
'First great-grandchild'
Peter was the first boy in the family after a lot of girls, so he always got special treatment.
He was part of a large extended family. He was my first child, my mum's first grandchild and my grandmother's (my Nin) first great-grandchild.
The whole family adored Peter and, from when he was a baby, my sisters made a big fuss of him.
We moved to a little house and I then met my late husband, John, when Peter was seven.
John and Peter immediately got on very well and they came to really love each other. I would never have married John otherwise.
After we were married, I became pregnant again and I worried about the age gap between Peter and the new baby.
It turned out I needn't have worried. Peter loved Stephen as soon as he was born.
When the family came around to see Stephen, Peter would not let them near the baby and told them to stay away as Stephen was his baby.
Five years later, Peter became a brother again, when Michael was born. As with Stephen, Peter was adamant that he did not want the baby to be a girl.
Peter was the first person to visit Michael in hospital and Michael was the image of Peter.
'Yorkie man'
Peter spent a lot of time with his grandparents and he was very close to them. He was always very family-orientated.
My parents have not been the same since Peter died and they still talk about him all the time.
My Nin, who died five years ago, always called Peter the 'Yorkie Man' because she thought the Yorkie man in the adverts was handsome like Peter. She always brought Peter a Yorkie bar when she visited.
Peter had contact with his grandmother on his father's side and she was very good to him.
We lived in a two-up two-down house until February 1989, when we moved to a bigger house.
This meant that Peter could have his own room in the loft. In the old house, the three brothers had shared one bedroom and they had a lot of fun in there together.
I remember when my brother Wally came to stay. He would stay in the bedroom with the three boys. I would be woken up by the sound of the four of them doing an assault course around the bedroom.
When Peter was nine or 10, John adopted him. I remember the registrar telling Peter that he could rip up his old birth certificate now, as he had a new certificate and a new name. Peter was delighted.
Afterwards, we had a party for all the family, and relatives brought presents for Peter.
'Heartbreaking'
As a baby, my youngest son Michael did not speak for a while. Peter would show his brothers Roy Chubby Brown tapes in his room.
There was a song about Christmas with swearwords in it. Michael managed to learn the words and for a while this was all he could say. I remember Peter screaming with laughter as the baby's first words included swearwords.
Immediately after Peter died, I sent the two younger boys to stay with family as I did not want them to see all the distress.
Stephen later wrote a letter to Peter and drew a picture for him. It was heartbreaking. They were sealed in an envelope.
Peter was very funny and he had the best sense of humour. He was very open and jokey. It was a silly rather than a nasty sense of humour and he was always laughing.
Like any teenager, Peter had his moments, but never anything bad.
He was lovely and he loved his family, especially his brothers. He was reared with his uncles - they were more like brothers to him than uncles.
Peter told me he loved me every day. He was at the heart of the house and our lives. We loved and worshipped him.
Memorial cup
My brother Wally got Peter into football and Liverpool Football Club. Wally was a huge fan and travelled all over the world to watch Liverpool. He was involved in the supporters club in Jersey.
We bought Peter a season ticket the Christmas before he died and we buried it with him.
Peter also played in the Sunday League. He started when he was 11 or 12 and worked his way up through the teams.
By the time he was 15, he was playing in the open age category with adults. He was very good and the league still has a memorial cup for Peter.
Peter often played in a Newcastle kit. He always had a soft spot for Newcastle and I still have his Newcastle shirt.
He also loved music, especially Chris de Burgh, and he was always playing his records.
Peter enjoyed going on holiday. We stayed in the caravan in Talacre, North Wales, as often as we could. When Peter was older, I would put him on a plane to Jersey to stay with family.
Peter always looked immaculate; for example, his shoelaces always had to be the same length. He never had a hair out of place.
He was always like that, from when he was little. His bedroom was always very tidy.
He had an expensive taste in clothes. My husband John was a generous person, but I had to hide the receipts from him.
'Moving to Jersey'
I remember, on one occasion, Peter would not let his brother Stephen go into a clothes shop with him as Stephen was eating an ice cream and Peter was worried he would mark the clothes. Stephen had to stand outside the shop with his dad.
Peter like Maccano tops which were really expensive. I remember finding genuine, but seconds, Maccano tops in the market on Great Homer Street.
I took Peter to see them, but he just shook his head and walked away.
Peter's school was just around the corner from his grandparents' house. He often went there for lunch or for his dinner after school.
Peter had been keen to leave school for a couple of years so that he could go to college in Jersey. I am still in touch with Peter's school friends.
Peter had left school just a few weeks before the disaster when he finished his exams and he planned to move to Jersey to finish his education.
He was going to live with my brother, Michael. They were very close and Michael was only 10 years older than Peter. He would come over to Liverpool from Jersey for football matches and he and Peter spent holidays together.
Michael was going to take Peter to Jersey for interviews at colleges. It was all planned and paid for.
Of course we would have missed him when he moved over there, but he would have had a good life and of course he would still be coming back regularly for the football.
I think he would have made his fortune there. Stephen thinks Peter would have become a wheeler-dealer as he could have sold snow to Eskimos.
'Terrible'
Peter did jobs for his grandparents to earn football money. He would go shopping for his nan. It was harder to earn money from his granddad.
He would ask him to do things like washing the car or cutting the privets.
Peter was very careful with money. From when he was 13, he would get up at 4:00am to deliver milk and he would run alongside the milk float. He would get home at 5:30am to 6am and then go back to sleep for a couple of hours before going to school.
My husband and I both had jobs and so Peter did not need to work, however it was something he chose to do.
When Peter was 15, he got a job in a bread factory for a couple of hours each night after school. The job involved clearing out loaves of bread and he would come home with bread for us.
It is terrible that Peter died when he had his whole life ahead of him. It feels very strange that I did not get to see him grow up.
Something died in the family when Peter died.
What happened was terrible, but we all try to remember the good times we had with Peter. I often go to his room, which still has his bed and bedside table.
Peter would have been 40 in May last year. On his birthday each year, the whole family meets up.
We look at photographs and tell stories about Peter. We still miss him.