South West flood defence spending drops 30%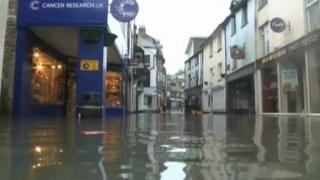 Spending on flood defences dropped about 30% in the South West over the past four years, it has emerged.
The figures cover Devon, Cornwall, Somerset, Dorset, Bristol and parts of Wiltshire.
They show that spending on flood defence in 2010-11 was £45m, while in 2013-14 it was £32m.
The government said more funding to help deal with the aftermath of recent storms and floods had been allocated.
A Department for Environment, Food and Rural Affairs (Defra) spokesperson said: "We are spending more than ever before on flood management and protection from coastal erosion and continue to build flood defences where they are needed.
"The Environment Agency prioritises the areas where the need for investment is greatest."
Flooding effects
The figures emerged through a Freedom of Information request by the BBC.
In 2012-13, spending rose to more than £39m, as the government allocated money to help with the effects of flooding during that year.
But in the past financial year, 2013-14, the Environment Agency's projected spending fell to just over £32m.
A spokesman for the Environment Agency said money was focused on areas where it could deliver the greatest benefit.
He said: "We have finite resources for building and maintaining flood defences so we need to make choices about where we prioritise our spending.
"Rules from successive governments give the highest priority to lives and homes, and so we prioritise investment in high-risk areas where it benefits most people and property. We focus our work where it delivers the greatest flood risk benefit to people and property - wherever that is in the country."
Prime Minister David Cameron said the government would spend whatever it had to in order to help those affected by flooding. "Money is no object", he told journalists earlier this year. The government then announced that an extra £270m would be made available nationwide.
'Caught out'
Shaun Pengelly, of Dave's Diner in Looe, which experiences repeated floods, said some places were under-protected.
He said: "I don't think there is enough done in Cornwall, to be honest. We have no defences at all. A seaside place like Looe needs some money for defence; we are open to the elements and can't do anything about it."
Shadow Environment Secretary Maria Eagle said: "Despite his (David Cameron's) claim that 'money was no object' when it came to flood defences, figures show his government actually cut funding by 30% in the worst-hit areas of the country in the last three years.
"Ministers cut funding for flood protection when they came to power in 2010.
"That short-termism has cost the country dearly as they will have to spend more in the long term to protect our flood defences for decades to come."