Stabbed Leeds teacher Ann Maguire was 'heart of the school'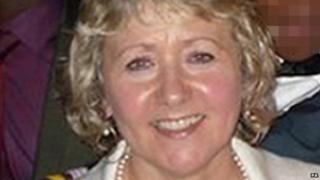 A teacher stabbed to death at a school in Leeds "couldn't do enough for people" and was "the heart of the school", her pupils have said.
61-year-old Spanish teacher Ann Maguire died in hospital after she was attacked in front of pupils at Corpus Christi Catholic College on Monday morning.
A 15-year-old boy is being held by police.
Year 11 pupil Matthew Calvert, 16, said Mrs Maguire had worked at the school for 40 years.
"She was a fantastic teacher, she couldn't do enough for people," he said.
"She wanted the best for pupils... she was definitely one of the best teachers here."
Former pupil Kerianne Ayward, 17, said: "No-one had a bad word for her - I mean no-one.
"She was the heart of the school."
Flowers have been left at the school gates, with one message reading: "To a special teacher. We was all sad about it. I will never forget you."
Aine Arnold, 17, said she was devastated.
"It's more like losing a family member than losing a teacher," she said.
"As long as we were happy, she was happy. She would do anything for you.
"Hers were one of those lessons you didn't want to miss."
Parent and former pupil, Lisa Lewis, said: "Mrs Maguire was a talented teacher, she was good at music, she taught guitar lessons and Spanish, she was a real asset to the school.
"She was very bubbly, outgoing and very popular. Everyone loved her."
Lydia Franco used to work at the school as a kitchen assistant and was standing crying at the gates as she waited to take her son home.
"I knew Mrs Maguire so well, she was a friend," she told the BBC.
"It's very difficult to believe. I don't really understand it, I've never seen any kids be violent or anything like that here."
Tributes have also been paid on Twitter.
"Can't believe what's happened, Anne Maguire was an amazing teacher and a great family friend. Everything about her being said is true! RIP x," Jim-Bob said.
Stuart Blamire, who said he went to the school in the 1980s, wrote: "RIP Mrs Maguire a great teacher lost for words — feeling sad."
And GeeSharpe posted: "What would even possess someone to hurt Mrs Maguire?! She never did anyone wrong. She was such a wonderful woman :("