Ann Maguire: Teacher loved by generations of ex-pupils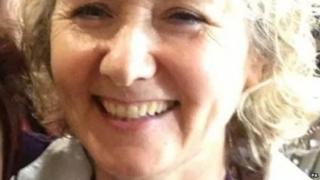 A teacher stabbed to death at a school in Leeds was an "inspirational" and "caring" figure remembered by generations of her former pupils.
Ann Maguire, 61, who died on Monday, had taught at Corpus Christi Catholic College for more than 40 years.
She was attacked in front of her pupils as she taught a Year 11 Spanish class.
The Most Rev Malcolm McMahon, Archbishop-elect of Liverpool, said Mrs Maguire had given her life to the school and Catholic education.
"Thousands of young people have benefited from her kindness and hard work over many years," he said. "May she rest in peace."
Martin Dowling, chair of the governors at Corpus Christi, said Mrs Maguire was "a wonderful, dedicated teacher" who had touched the lives of many people in the local community.
The school's head, Steve Mort, said Mrs Maguire was "an outstanding teacher and leader", whose work at the school was a "vocation" rather than a career.
She taught three generations of pupils at the school, including some of the parents of her current pupils.
In all this time she put the needs of the children first, he said.
"She never gave up on pupils even at times when they may have given up on themselves."
Due to retire
Mrs Maguire, who lived in Leeds, joined Corpus Christi as a student teacher and stayed for more than four decades.
She was head of Year 11 at the school for more than 10 years.
This year she had been teaching four days a week and had been due to retire in September.
Mrs Maguire leaves a husband, Donald, who runs a landscape gardening business, and two adult daughters.
One of them is Emma Maguire, a soloist at the Royal Ballet.
Mrs Maguire's other daughter, Kerry, used to be a ballerina but after seeking help from an osteopath for an injury retrained as an osteopath herself.
'Heart of the school'
One of Mrs Maguire's former pupils, Marianna Proietti, said: "She was a pillar of the school but she was also an inspiration to so many students that went to Corpus Christi.
"She taught me religious education and Spanish - and also PE. And 30 years down the line I still remember her very fondly.
"And she gave me so much good advice to go forward with my life, and with my career and what I wanted to do."
Another former pupil, Kerianne Ayward, 17, said Mrs Maguire was "the heart of the school".
Joseph Kilbride, who attended Corpus Christi between 2001 and 2006, said she had always had a smile on her face and was "like a mother away from home".
"I used to get bullied and she would always be the one who stood up for me and looked out for me," he said.
Others called her "bubbly", "outgoing" and "very popular".
'The one we remembered'
Rebecca Lister said she, her elder sisters, 29 and 27, and her younger sister, 21, were all former pupils.
"Mrs Maguire was the one teacher we all remembered," she said.
"I remember that Mrs Maguire turned up at my house one day because my sister didn't turn up to school for her exam. Mrs Maguire came to the house because she was worried about her."
Following Mrs Maguire's lessons, one of her sisters went on to become a Spanish teacher, she said.
Lucy Potter, a pupil of Mrs Maguire's in 2009, left a tribute for her teacher outside the school.
Part of it read: "You always believed in me and took the time and effort to make sure I achieved the best I could.
"I wouldn't be where I am today if it wasn't for you - such a caring woman who only wanted the best for each and every pupil."