Elvis Presley dental crown goes on UK tour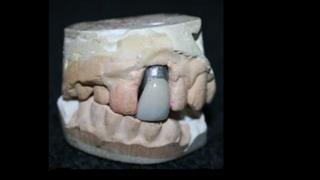 A dental crown worn by Elvis Presley is touring Great Britain to raise awareness of mouth cancer.
Nicknamed "The King's Crown", it was made by the star's former dentist Henry J Weiss, and will be accompanied around the country by Elvis impersonators.
Canadian dentist Michael Zuk, who has donated the false tooth to the tour, bought it at auction for £6,500.
Dr Zuk also owns one of John Lennon's teeth, from which he has expressed an ambition to clone the former Beatle.
Presley's dental mould, with the crown in place, will travel with five letters of authenticity, from the wife and sons of the dentist, and Joe Esposito, Presley's road manager.
The first stop on the tour is Malvern on Wednesday, from where it will travel to a further 10 venues across England, Scotland and Wales.
Dr Zuk, a self-confessed tooth-collection obsessive, buys the teeth of dead celebrities.
He said: "If you're going to buy teeth you're going to buy the most famous teeth in the world, yeah?
"I think I've captured the two biggest [celebrities'] teeth possible and I'm hoping it will make other dentists jealous so they will buy them off me later."
Mouth cancer, in which a tumour develops on the surface of the tongue, mouth, lips or gums, can less commonly occur in the salivary glands, tonsils and pharynx.
Malvern dentist Karen Sutton, who is hosting the first stop of the tour, said: "We doing this as a way of raising awareness of mouth cancer which currently kills five people a day in the UK."
She urged people to visit her surgery to see Elvis' crown: "It's a once-in-a-lifetime opportunity," she said.