Pot used by Hertfordshire family as doorstop sells for £180,000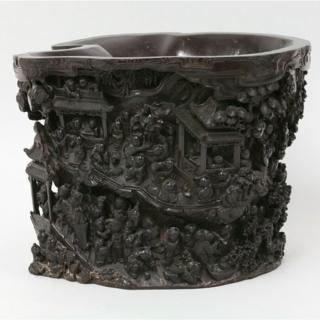 A Chinese wooden pot used as a doorstop has sold for £180,000, far exceeding its "conservative" £30,000 valuation.
Its former owner was "left speechless" and was "more or less in tears" after the sale was made, according to Guy Schooling from auctioneers Sworders.
The intricately carved 9in (24cm) brush pot was bought by a Chinese bidder who will return it to China.
The late 18th or early 19th Century pot had been kept on the floor of a Hertfordshire cottage for years.
The family who sold it were "unaware of its value" and had owned it for 40 years.
Mr Schooling, managing director of Sworders, said: "The client was more or less in tears by the time it was sold and was left speechless.
"It's a huge sum of money for her and she would have been happy with £10,000 for a new car."
The auctioneers, based in Stansted Mountfitchet, tweeted there was "great drama" in the room when the pot sold.
Mr Schooling said: "The purchaser, who is known to us, has this technique which involves great jumps in the bidding.
"One of the leaps was from £125,000 to £150,000 - he called out £150,000 and that was it."
The pot is a "rare example" of artwork made from Zitan, a dense, tropical hardwood which only the imperial household was allowed to use.
It would have been used to store calligraphers' brushes.