Hillsborough stories: Peter Andrew Burkett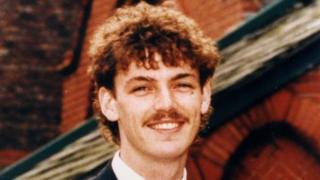 Peter Burkett was a married insurance clerk living in Prenton. He travelled by car with friends including Jonathon Owens, a fellow victim.
This is the full statement to the inquests from his sister, Lesley Roberts:
Mr Burkett's step-mother, Anne Burkett, also provided a pen portrait.
At our mother's request, I make this statement to assist the coroner with a background statement about my brother, Peter Andrew Burkett, who lost his life in the disaster at Hillsborough Football Stadium on April 15, 1989. He was 24 years old.
Peter was born in Heathfield Maternity Home, Bromborough, Wirral, February 16, 1965, to our mother Linda and our father Terry. On December 18, only 10 months later, Peter's little brother, Terry, was born.
Two years later, November 1967, our brother Steven arrived. Tragically, Steven died in infancy just aged five months. On 9 August, 1969, I was born.
As a young mother with three small children, my mum relied heavily on help from her family to raise us. We spent much of our early years growing up at our nan's house surrounded by family.
My grandad and Nan Ballinger lived close by with Janet, Phil and Sue, our maternal aunts and uncle.
Aunty Sue was only five years old when Peter (and Terry) were born and she remembers them being inseparable. They came as a pair, usually in matching outfits. The three played together as three small children, sharing family occasions, birthdays, Christmases (the annual grotto trip) and weddings too.
They made a cute little threesome as page boys and bridesmaids. They enjoyed 'days out', caravan holidays and day-to-day playtimes.
Entries from Sue's 1968 news book illustrate this most poignantly. Some of Sue's news books read as follows:
'a, Friday, 13 December 1968 - today at dinner time my nephews Peter and Terry came to have lunch and when they had finished we played hide and seek.
'b, Monday, January 27, 1969 - On Sunday I went to play with my nephews. We played in the bedroom on Peter's rocking horse. I had a very good day indeed.'
Aunty Sue remembers Peter as a sweet little boy and childhood playmate who grew up to become a kind and gentle young man. She is only too aware of the sadness his death brought to Peter's nan, who loved him very much as her first grandchild.
In 1970, my parents' relationship broke down and my mother later remarried. In 1973 Peter, then aged 8, Terry and I moved with them to a farm on Anglesey in North Wales.
Peter never really settled on Anglesey and he missed his dad and his nan and the extended family in Merseyside. A few years later, when he was 11, he moved back to Birkenhead to live with our father.
'Football banter'
Peter went to Rock Ferry High School from the age of 11 to 16 and was watched over by his Uncle Phil, who was a teacher at the school. He was a bright student and very popular.
He loved football and supported Tranmere Rovers and Liverpool. He continued to have a strong bond with his Nan Ballinger and, as a teenager, called in after school to do his homework and have his tea.
She loved having him there, although she would often badger him about his fringe being far too long. "Our Peter, get your hair cut. Your fringe is in your eyes. You've got a lovely face and we can't see it."
Nan's 'get your hair cut' speech to Peter was to become a regular feature in the years that followed.
Pete's maternal family ensured he was able to visit his family in Anglesey regularly. These long car trips through North Wales provided the opportunity for plenty of banter, mostly about football, and particularly if the driver was an Evertonian.
Peter's Aunty Jan recalls how Pete and his Uncle Ken would talk football throughout the journey.
Pete's passion for Liverpool Football Club was now fixed in stone and he would really enjoy a good Liverpool/Everton debate.
However, Pete was very conscientious and made sure that his weekend homework was done while travelling along. Aunty Jan remembers Peter as being a bright and intelligent boy with so much potential.
She remembers how he loved to kick a ball about, but most of all she remembers his lovely face and happy smile.
Throughout Pete's early and teenage years, I recall lovely caravan holidays with Pete and all the family from Merseyside in Prestatyn or in Butlins in Pwllheli.
Looking back at those photographs from those happy times together has given our family many reasons to smile.
'Flying lessons'
During this time, our sister, Sarah, and brother, Michael, were born and Peter's family became even bigger.
Peter was 10 when his baby sister Sarah was born in 1975 and she remembers Peter's many visits back to Anglesey. She recalls how our mum would take them to feed the chickens, collect the eggs and brush the horses.
Mum loved teaching Peter to ride and Sarah would sit and watch them on the gate. They would have fun collecting blackberries and sloe berries and get very mucky in the process.
Mum surprised Pete with flying lessons for his birthday. He was so excited. He did very well and Mum was really proud of him.
Sarah often wonders how life would have been different if Peter was still with us. He would probably share his love of football with his nephew, Jay, who is just as passionate about the game as Peter was, albeit supporting different teams.
Jay often talks about Peter and drew a picture a few years ago which is still on display at their home. Sarah feels very sad that Jay was denied the chance to know his Uncle Peter.
Sarah was just 14 when Peter passed away and remembers all too well the pain that surged through our mum and the entire family.
Peter's brother Michael was eight when he died. He, too, has happy memories of spending time with Pete. He recalls how Pete would arrive on his motorbike and how he would happily indulge his little brother by riding around the yard holding Mike on the handlebars.
He remembers vividly playing snooker in the lounge. Peter once asked him, "Who is your favourite football team?"
Michael, then aged about five, said he didn't really have a favourite. Peter grinned at him and said, "Liverpool. Liverpool are the best".
From that day to this, Michael has been a 'Mighty Red'.
Michael recalls: "One of my last and fondest memories of Pete was when he turned up at Lesley's wedding with his hair cut really short because my mum, and Nan especially, always nagged him about his long fringe covering his eyes.
"I remember him laughing and rubbing his hands together when they saw him. I think of my brother every day and I only wish that I had more memories of Pete."
In 1979 my brother Terry went to live with Peter at my father's house in Rock Ferry. As brothers, they were very close.
'Brothers and sisters'
When I was old enough, I would visit them as often as I could, they would treat me like I was so special, they were my big brothers and I looked up to them so much.
During this time, our father met Anne.
Anne had a daughter, Cathy, who lived with her, and two sons, Jason and Martin, who lived in Scotland. When the boys visited, we all got on really well and Peter, Terry and I came to think of them as our brothers and sister.
Peter's love of Liverpool Football Club was ongoing. He would go to most home games and away games when he could. Peter and Terry often visited matches together, but, as an Evertonian, Terry provided Peter yet again with more friendly football banter and rivalry, which, as you have heard, is common in many Merseyside families.
Peter and Terry grew in independence and continued to live together at my father's house in Rock Ferry into their late teens. Peter would visit my father, Anne and Cathy at their house often.
When he reached 20, our sister Jenny was born. As the baby of the family, she was adored by all, especially Peter. Eventually, our dad and Anne married.
Terry moved away to work in London and Peter brought his own home in Singleton Avenue in Prenton.
In 1984, Peter met Michelle. They worked together at the Royal Insurance Company in Liverpool. On 6 September, 1986 they married in St Joseph's Roman Catholic Church in Tranmere.
Indeed, the familiar image representing Peter as one of the 96 was taken on his wedding day. Peter and Michelle had no children and, unfortunately, that marriage did not work out.
They decided to separate but remained friends. Sadly, Michelle has recently passed away.
On November 19, 1988, five months before the Hillsborough disaster, both my big brothers, Peter and Terry, walked me down the aisle on my wedding day.
Without a doubt, Peter was the star of the day. He arrived on the morning of the wedding, sidled up to my mum with a huge grin, saying, "This is a special occasion, mum. I've cut my hair just for you".
Indeed, he had chopped off all his hair so my nan couldn't badger him about his fringe anymore.
At the wedding reception, he stood on a chair and made a speech that had everyone roaring with laughter. Later in the day, I found him surrounded by children, all laughing hysterically because he was playing with a doll, throwing it up in the air and making silly faces.
'Beautiful person'
When my girlfriends arrived later that evening, I have never seen so many girls fall in love so instantaneously, positively besotted, all competing for his attention.
Four days after my wedding, I moved to Germany with my new husband. Sadly, I only saw Peter once again before that fateful day in April 1989.
It was impossible not to love Pete. He loved all his family and we all loved him.
There were so many people involved in shaping Peter into the beautiful person he became, but ultimately it was Peter who rose above all the challenges life threw at him.
He chose to be the best person he could be and to see the best in all those around him. Sadly, both our parents have passed away.
Peter looked so much like my mum in the early years and would not move from her side, he was so protective of her. As he grew older, he became very close to our dad. They were best friends, not just father and son.
If you searched the world a million times over, you would never find anyone quite like Pete. To us, he was unique. He was such a lovely, quietly confident person, gentle and kind, intelligent and thoughtful.
He was so full of life, so funny and charming, with many friends, both male and female. When he walked into a room, it would feel like somebody had switched a light on and everything was instantly brighter.
When he smiled, it warmed your body through to your soul. He made you feel special; in reality, he was the special one.
Peter touched the lives of all the people who knew or loved him. Over the last 25 years, as a family we have chosen to remember him privately, but he is always in our thoughts.
'Born smiling'
His passing had a huge impact on all of us. All our lives changed forever, most acutely for my brother, Terry; two brothers born so closely, inseparable as children.
To this day, Terry has not come to terms with Peter's death, the pain, the sadness and the anger. There is no doubt that his life would have played out very differently had Peter lived.
Time has passed and our family has grown. There are now nephews, nieces and cousins Peter will never know. He was denied this future at the age of 24.
Shortly before Christmas, five months ago, our mum passed away, aged just 66, before she was able to complete this statement.
She loved Peter with all her heart and said he was such a lovely child and he was born smiling. We are so proud of who Peter was and so lucky to have known him.
He is sadly missed but will live on in our hearts forever.