Hillsborough stories: Kester Roger Marcus Ball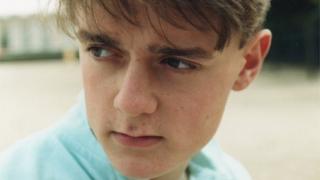 Kester Ball, a schoolboy from St Albans, travelled to the game by car with his father, Roger Ball, and a friend, who both survived
This is the full statement to the inquests from his mother, Brenda Ball:
My son, Kester Roger Marcus Ball, was born on 2 August, 1972 at Ormskirk General Hospital, a brother to Juliette, who was just 16 months older.
His father, Roger, was a bank manager and was moved around for each promotion. Consequently, Kester lived in Maghull, Blackburn, Newcastle-upon-Tyne and Hexham before he was 10 years old.
He was happy at primary school and worked hard.
Our family was then moved down south, and we lived in St Albans. It was while we were there that Kester started his first year at Parmiter School in Garston.
As a young Parmiterian, he threw himself into the school wholeheartedly. He played badminton, cricket and football and was a member of several clubs and societies.
As he progressed through the school, he made an increasingly notable contribution in sporting activities, particularly as a member of the 1st soccer XI and in athletics and as a cross-country runner.
Kester was one of the best middle-distance runners the school had at that time and played a prominent part in the school's success at district and regional levels.
He held the school record for the 1500 metres which remained long after his death.
Academically, according to his teachers, he was very able and a fine example to his fellows. He was awarded two governors' prizes for achievement and endeavour. He took O level maths a year early, achieving a grade A, and in the fifth year took AO mathematics and GCSE in eight subjects.
He gained among the best results of his year. He then proceeded to the lower sixth to read four subjects at A level.
'Paper boy'
Kester's headmaster spoke of him as being one of the most popular, respected and influential members of his year group, an outstanding pupil who lived up to the school motto, 'No man is born for himself alone'.
The sixth form building, which had recently been constructed, was named Kester Ball House in his memory.
Outside of school, Kester had many interests. He was a member of the local tennis club, he enjoyed road running and took part in many half marathons and 10k races with his father.
Another activity he shared with his dad was watching county cricket. He played table tennis and loved fell walking in the Lake District, which we enjoyed as a family.
He was keen Scouter and was a Patrol Leader. Cycling was another interest, as was his love of music.
He enjoyed earning extra pocket money and worked as a paper boy, a babysitter and a chef in the local Little Chef restaurant.
Roger, Kester's father, had supported Liverpool FC since he was a boy and attended matches from the early 60s onward. His love of the club was passed on to Kester, who saw Liverpool win the European Cup in Paris in 1981 when he was just nine years old and the double at Chelsea and Wembley in 1986.
Kester was given Kop season tickets for his birthday. His father was already a season ticket holder.
They travelled to Hillsborough together, along with Kester's two best friends, Craig and Andrew, both of whom survived, as did Roger, who was carried out unconscious. Roger died four years ago.
Kester was a loving son and not afraid to show his affection, even in front of his peers. He was compassionate and made a positive impact on all who met him.
He was a very loyal friend and brother, and his sense of humour and fun-loving personality made him very popular. He was never bored and lived life to the full, accepting challenges, seeking new adventures and always striving to do his best.
'Future hopes'
When he was 11 years old, he wrote a project for school about himself, which I still have.
There are various chapters about his family, his home, holidays, hobbies, et cetera, but I would like to share one particular chapter with you, headed 'My Future Hopes':
"When I leave this school (Parmiter's) I would like to study in a university. I would then like to go on to banking (my dad's job). This job involves a lot of moving about, so I don't have a place in mind where I would definitely want to live.
"I want to get married and have two children. When I retire, I would like to live in the Lake District and do a lot of walking. When the year 2000 has arrived, my family are going to meet up on New Year's Eve in 1999 to celebrate the new century.
"For my 18th birthday, I would like to have a big party and when I am 17 I would like to take a driving test."
Kester never achieved these future hopes. He died aged 16 years.