Hillsborough stories: Gordon Rodney Horn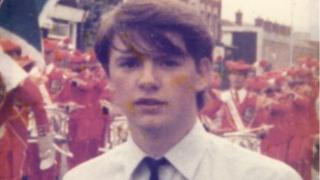 Gordon Horn travelled to Hillsborough on a mini-bus with friends, who all survived.
This is the full statement read to the inquests by his sister and foster mother, Denise Hough:
My brother Gordon Rodney Horn was born on 26 March, 1969. He was 20 when he died.
Gordon didn't have the easiest start in life. He was one of four children who were removed from our mother into the care system.
He was seven years old when he was placed in care, and I used to visit him at the West Derby Children's Home as often as I could.
When he was 14, my husband and I fostered him legally and welcomed him into our home.
I have helped family members over the years. Gordon was the second one I fostered.
Gordon had a big personality. The first time my husband met him was when they both went to see my mother so she could sign the documents that would allow us to get married.
'One of us'
Gordon was five years old and came in and asked for Rob's odd change and our mum said no, so he got a little gobby. Robbie told him never to speak to his mother like that again.
It was the first time he had met my mother and Gordon, and I hadn't seen my mother in a while, so it was an odd experience.
Nevertheless, Robbie has been known to say it was where his bond with Gordon was sparked. He had a way of getting under people's skin and making them love him.
Robbie and I visited Gordon often in the children's home and one day we saw him looking through a port hole window and waving to us as we left. We decided then that he had to come and stay with us.
We didn't realise that we would have to go through the whole fostering system, but it didn't matter, because we loved him. He was one of us, and we treated him just like our own children, Julie and Andrew.
When he first came to live with us, he was quiet, but he grew with us almost like a seed. He loved listening to Dire Straits and Phil Collins and really enjoyed watching Home and Away.
'Witty'
I remember he didn't like to shower when he first came and the only way we could get him to shower was to tell him he would not be allowed to watch Home and Away until he had a wash. I think he liked it because he could relate to the foster children who went to live with Pippa in the show.
Gordon had lots of friends at the children's home and continued to make friends when he came to live with us. Andrew Dodd and Ian Broadhurst were his best friends.
As well as attending football games with them, they were also in a band together. Gordon enjoyed playing the flute and he played for the Beaconsfield Flute Band before joining the Liverpool marching band he was a member of at the time of his death.
All the activities he was involved with helped him grow and make many friends, such that I can say he truly blossomed and came out of his shell when he came to live with us.
He had a witty sense of humour and we welcomed him and his friends into our home and they had great fun. I remember one party we had with all Gordon's friends at our house. Gordon always had a thing for teasing one of his friend's, Ian, whom he called Broddy.
Whenever he had had a drink, he would lock him out of the house so Broddy had to knock to get back in. That night, he didn't knock and by morning Robbie was concerned.
Broddy came back to the house a little later in the day with a blank cheque which he handed to Robbie, provoking much laughter from all the boys. It turned out Gordon had told Ian that he had broken our video player so that he was scared to come back until he had the cheque to cover the damages.
It was funny, and it also showed the excellent character of Gordon's friends and the respect they had for us.
Gordon was a big Liverpool fan. I'm not too sure where he got his love of LFC from, but it was always like that from when he was about seven or eight.
In preparation for his homecoming, we decorated his walls and bedding in Liverpool colours and, when he was old enough, he attended all Liverpool games, both home and away.
'Children loved him'
Gordon was known as a 'gofer' in those days, he would go and queue up for tickets on behalf of people who didn't have the time because they were working, and they would pay him a few quid for his help. That was how he made the money to buy his tickets.
As well as going to games with friends, he also used to go with Robbie and our next-door neighbour Billy to away games. I recall Robbie saying that when he fell asleep on trips back, Gordon and the others would try and throw nuts into his mouth to see if they could wake him up.
He still remembers their times together at games fondly.
Gordon lived with us until he was 17 years old. He then moved to a Halfway House run by Social Services to gain a little independence.
He left school at the age of 16 and worked on a government scheme, draught proofing properties. He did other jobs as well but was unemployed at the time of his death.
In 1989, he moved back in with our mum for a short while. He was a real character. Even when he didn't live in our house anymore, he was always around.
My children loved him and got along with him, especially my son Andrew. They saw him as an elder brother.
Andrew looked up to Gordon and they went everywhere together, especially football games. I remember Gordon wanted to take Andrew to Hillsborough in 1989, but I did not let him.
He took Gordon's death very badly and blamed me and used to say, if he was there, he would have been able to save both Gordon and himself.
For Gordon's 18th birthday festivities, they started on a Friday and lasted until the Sunday. On the Friday night, we all went to the Beaconsfield Club, after which all Gordon's friends came back to our house.
'Hard to swallow'
On the Saturday, he and his friends went to Anfield to a football match and then their band played at Beaconsfield that night. Robbie got hold of a video camera to film Gordon on the festivities.
It was one of those massive cameras, so it wasn't discreet, but Gordon loved the attention. After the march, Robbie told him a few friends could come around to our house, but when we got home, the whole band was in the garden playing.
It was unexpected, but Robbie said it was okay, as long as they didn't play Orange Lodge stuff so as not to offend anybody. Robbie is from a Catholic background and my family were Protestant, but we accepted each other.
I remember children in the neighbourhood who had never heard a band play. They were looking into the garden excited at what was happening and Gordon made Andrew a miniature twirling baton so he could feel a part of it.
Andrew loved and adored Gordon. We all did. The bond between all of us was unbelievable.
Gordon was planning to move back in with us when Hillsborough happened. We often wonder what would have become of him.
Would he have children now? Would they be playing in our garden like we used to play with him?
Losing him was like really losing one of our own. It is hard to swallow that so many years later we still haven't been able to put him to rest.
We stopped him from going to the Heysel football match to keep him safe. It's a shame we couldn't stop him from going to Hillsborough. He had so much life left to live.
We all miss him so much.