Hillsborough stories: Brian Christopher Matthews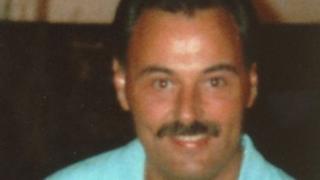 A married financial consultant from Knowsley, Merseyside, Brian Matthews travelled to Hillsborough with friends, all of whom survived.
This is the full statement read to the inquests by his wife, Margaret Matthews:
Mr Matthews's sisters, Deborah, Brenda and Dianne Matthews, also gave statements to the inquest.
I am Margaret Matthews of Liverpool and will say as follows:
Brian Christopher Matthews was the great love of my life. As he took great delight in telling me, I only made it to his top five.
Number four was his 'sheepie' - a sheepskin coat he had been given for his 21st birthday. My, he loved that coat.
Number three was Diana Ross.
Number two was his mum, Dora, 'Diddy Dora'. Brian adored his mother and was very close to her.
If Brian and I were tired on a Sunday occasionally and I didn't feel like cooking, she would make us a Sunday roast and pack it all up with the gravy and send it over to us in the car. She was a lovely, funny lady.
The number one spot was reserved for Liverpool Football Club.
I spent most of our marriage at number five, occasionally moving up as high as number three. I never once made it above his mum or LFC.
'Travelling together'
He treated me to fabulous summer holidays and we had some very exciting and wonderful family Christmases full of surprises.
He doted on me. I was happy at being number five. I was happy being Brian's wife.
I met Brian on 19 November, 1971 in the Halfway House pub in Walton. He was 21, I was just 19. He was my first boyfriend.
He was working as a quantity surveyor with his father, a labourer on the construction of the Royal Liverpool Hospital, whilst he was also attending night school to gain further qualifications.
In those early years, I was studying for an applied languages degree and twice spent time away studying in Europe. Brian and I kept in touch by writing letters and, once I had completed my studies, he came out to join me and we spent some time travelling both together in France and in Spain.
We were very young and after a while we broke up. We were apart for three years, three months and three days before we met again by accident on 21 January in 1977.
Eight days later, Brian proposed to me and we were married on 3 September, 1977.
Our first home together was in Fazackerley in Liverpool. By 1980, Brian was working for National and Provincial Building Society, which is now called Santander. He was promoted to be the manager of the Clitheroe branch out in Lancashire.
I was still working in Liverpool at the time, so I would spend several days a week staying at my parents' home in Liverpool, leaving Brian alone in Clitheroe with my dog, Bruno.
Brian had always complained about the dog and told me how much he disliked it; however, during that time they were alone together, he trained Bruno to do tricks and they became firm friends.
'Witty'
Brian later got transferred back to Liverpool so we could be closer to both sets of our parents. I was very grateful for this, as my parents were elderly, and I bought him the season ticket to Anfield as a thank you present.
When we moved back to Liverpool, we bought the home in Knowsley Village where I still live. Brian left his mark on this house as, to this day, some of his DIY, such as wall lights that he fitted, remain in place.
He was marvellous at DIY. He would just ask me to give him a list of jobs and then, when he was ready to work, he would ask me to put on his favourite LP, by which he meant his favourite song, 'Baker Street' by Gerry Rafferty. He would happily listen to that song and do whatever jobs I asked him to do around the house.
Brian was really artistic and could turn his hand to many different things. I remember him teaching me to make curtains. He was always insisting on trying to teach me to do things like fix the car or change plugs in the house, but most of the time I had no interest in it at all.
He would ask what I would do if he wasn't there to do it for me and I would tell him I would just pay a handyman to come in and do it, and that's now what I have to do.
Brian was so witty; he could find humour in any situation. There was never a dull moment with him around. I remember my mum once coming home from the doctor with a "description", as she called it.
"Oh, Susie", he told her, as he looked at the prescription form, "the doctor says that you will have to take these once a week for the rest of your life. The bad news is that he's only given you six tablets".
He always lived for today, preferring us to spend money on our foreign holidays than to save it for a rainy day. He quit his job six months before he died and began working on a self-employed basis.
This was a big gamble, but he had built up such a strong reputation within the field of financial services that other companies were very keen to work with him and it turned out really well for him.
He was close to all of his family and I am forever grateful that on the Thursday before he died, we both took the day off work so he and his father could work in our back garden cutting down the hawthorn trees.
They spent the whole day out together working side by side. I'm so happy that his dad had that time with him.
'Cooked breakfast'
On the morning of 15 April ,1989, I got up early so I could go down to the baker's shop and buy some fresh bread rolls, get some of his favourite meat, which included roast turkey and ham off the bone, so I could make Brian some nice sandwiches to take with him.
I also made him a flask of coffee and I was going to put a couple of Kit-Kats in the Tupperware box, as these were his favourite chocolate biscuits, but I was worried that they would melt and ruin his nice sandwiches.
I think back and I wish now I'd put the Kit-Kats in so he would have enjoyed his last meal more.
I then took him up a cooked breakfast in bed. He got up and left with his friends to go to the match. I kissed him goodbye and watched him go. He waved from the car for a very long time.
Later that night, when he had not returned from the match, I borrowed a car from my brother Tommy and went to Sheffield with his sister Deborah and her partner, Paul, who drove, and we went to look for him.
We arrived at the gymnasium in the early hours of Sunday morning, 16 April, and I saw his name on a list. An officer told me that he had bad news to tell me and I thought it was that Brian had been very seriously injured.
'Lonely'
In my head, I was wondering whether we would have to make adaptations to the house. It did not occur to me that he could have died and I refused to believe it, even when I was told.
I asked to see him. I remember fussing over him, making his hair look nice. I wanted to take him home with me. I thought that if I could put him to bed and warm him up, he would be okay the very next day.
It may seem a crazy thing for an intelligent 36-year-old woman to have thought, but I just could not comprehend that my funny, loving, artistic, generous, handsome and larger-than-life husband could go to a football match and never come home.
I remember lying in bed and praying not to wake up for five years. I was so lonely without Brian. I would not wish the experience of those early years following his death on my worst enemy.
I took comfort in the thought that God must have had a major project that he needed Brian to take on up there and I knew that Brian would have done a fine job of it with 'Baker Street' playing in the background.