Anglian Water investment plans for growing population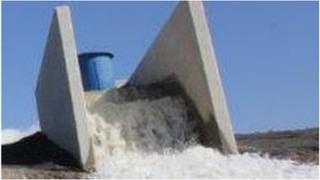 Anglian Water is to invest up to £9bn in flood protection, sewerage and maintenance over the next 15 years.
Hundreds of homes are to be connected to mains sewers, water supplies will be increased across the region and flood defences strengthened before 2019.
The Consumer Council for Water said it had pressured Anglia Water to invest in priorities identified by consumers.
Anglia director Chris Newsome said the challenge was to deal with a changing climate and growing populations.
Bernard Crump, Central and Eastern chairman for the Consumer Council for Water, said: "We are pleased Anglian Water are already gearing up to improve water and sewerage services.
"We have been actively challenging the company to ensure its future investment is rooted in what its customers consider a priority and at a price they are willing to pay.
"The plans for the first five years of this investment are on course to achieve this and a final decision will be made by the regulator Ofwat in December."
Supporting recovery
Anglian Water provides water and sewerage services in Buckinghamshire, Bedfordshire, Cambridgeshire, Essex, Hertfordshire, Lincolnshire, Northamptonshire, Norfolk and Suffolk.
It has also established a list of partners, contractors and engineering firms to help implement investment plans.
Schemes for the next five years will include projects worth £44m to protect homes at risk of flooding and £192m to improve and extend the sewerage network.
The company is to spend £117m on new water treatment works and pipelines and £225m on maintaining existing water pipes and treatment works.
Hundreds more homes are to be connected to the mains sewerage network for the first time at a cost of about £71m.
Mr Newsome said: "We're committed to investing to combat the challenges our region faces - dealing with a changing climate and a growing population.
"These investments also support economic recovery and regional growth, delivered in a sustainable way that will benefit the whole of the region Anglian Water serves."