Navitus Bay wind farm proposes compensation to businesses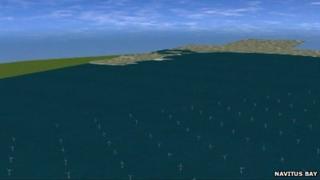 Developers of a £3.5bn wind farm off the south coast of England are proposing compensation to businesses who use the stretch of water.
Navitus Bay wind farm would be located between Dorset and the Isle of Wight and would be visible from the coast.
Campaigners against the project say the compensation assessment shows the firm realises there will be a "significant effect" on tourism.
Navitus Bay says compensation during construction was "standard practice".
Andrew Langley, from Challenge Navitus, said diving firms in particular would suffer during the five-year construction process as underwater noise would make it difficult for people to dive.
"One of the problems is with any tourism industry you have a pyramid of businesses dependent on tourists," he said.
"If divers don't come to dive, they don't use bed and breakfasts, they don't use restaurants, they don't use cafes, they don't use shops, so the whole community suffers."
He added that at present campaigners did not feel they had a "proper assessment of the negative impacts".
'Just a perception'
Navitus Bay's senior project manager Stuart Grant said the firm was simply proposing to assist businesses with increased costs.
"It's not the businesses stopping working, it's effectively just changing the way they're working," he says.
"There may be increased costs associated with dive businesses having to move to different wrecks, say fuel for example.
"It's only right that we compensate those for the increased costs."
"We've done detailed tourism studies - similar to the 22 other wind park around the UK.
"The impact on tourism is really a perception and there's no real evidence from around the UK that wind farms impact on businesses - and that's looking at wind farms even closer to shore."
Fewer than 100 businesses have been contacted by Navitus Bay and an assessment has started.
A planning application for 194 turbines, up to 200m (650ft) high, was submitted to the government in April.
Developers say it could generate enough power for up to 700,000 homes and contribute more than £1.6bn to the economy in its 25-year lifetime.