Sussex Police say drones 'could have helped' in floods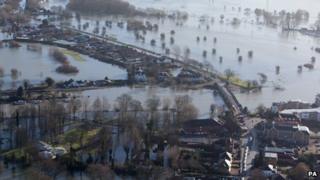 Drones could have helped police in their efforts to assist people affected by flooding, a senior officer has said.
Sussex Police is trialling a small radio-controlled device in rural areas near Gatwick Airport.
The pilot scheme, which is in its early stages, aims to test whether the force could cover wider areas using the same numbers of people.
Supt Brian Bracher said drones would have helped officers know "exactly what was happening" during flooding.
'Up to speed'
He said the force had seen media companies use drones to film flooding in Surrey earlier this year, instead competing for and relying on "very expensive" helicopters.
"Had we had the ability of this device, it would have enabled our command to actually get a good view of exactly what was happening," he said.
"We could have kept in one area if there was a particular concern.
"This is about us trying to get up to speed and use these systems in the same way that others are doing."
Landowners near Gatwick Airport were asked for permission for the aircraft to be deployed from their land.
The three-month trial is being funded by the Association of Chief Police Officers (ACPO) to test how effective it could be in policing.
It costs £35,000 for the equipment and £10,000 for the training of four officers to use it.
If the trial is successful, the Aeryon Skyranger system could be used elsewhere in police operations, such as collecting evidence after collisions or major incidents and in the search for wanted or missing people.