World War One Heilsberg prisoner of war cemetery restored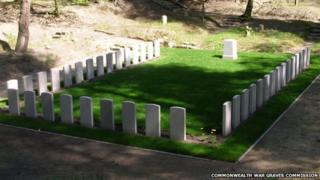 Headstones commemorating 39 UK soldiers who died at a German prisoner of war camp during World War One have been erected in northern Poland.
The men were held alongside thousands of Russians at the Heilsberg prisoner of war camp and died in 1918.
They were buried in a nearby cemetery, but after it deteriorated in the 1960s, they were remembered with a memorial 75 miles away.
Now the Commonwealth War Graves Commission has rebuilt the cemetery.
Following an appeal by the Commonwealth War Graves Commission (CWGC), four of the soldier's families have come forward.
Steve Mannion, the great nephew of Gunner James Grier, who lived in Alderney, in the Channel Islands, said that up until now the family, from Rainham, Kent, had only been able to visit a WW1 memorial in Alderney.
"He (Grier) was captured and really badly looked after by his captors, dying at the age of 19, so he really hadn't experienced any life at all," Mr Mannion said.
The nephews of Pte William Gordon Jones, Gordon and Wyn Jones, from Llanfyllin, a small village in Powys, mid Wales, attended a rededication ceremony at the Lidzbark Warminski cemetery on Friday.
Gordon Jones, 68, said: "It's very emotional. Our family have never forgotten this soldier, who I am named after. We knew who he was, where he grew up and when he went to war, but were never certain how he ended up in this area in 1918."
Mr Jones and his brother, who were put in touch with the CWGC by an amateur historian, took a poppy wreath over to Poland and laid it next to their uncle's headstone.
"It is excellent work that the Commonwealth War Graves Commission have done and that we have now had the chance to pay our respects to our father's brother," Mr Jones added.
Between August and December 1918, 39 British prisoners of war died at the Heilsberg camp, which was then in part of Germany.
It is likely their deaths were a result of insufficient food, overwork or one of the diseases that swept through the overcrowded and insanitary camps.
The nearby Lidzbark Warminski cemetery was used to bury the British and Russian prisoners of war who died at the camp.
After the war the Imperial (now Commonwealth) War Graves Commission marked the graves with a Cross of Sacrifice and headstones.
'Touch the past'
Peter Francis, from the CWGC, said: "During the 1960s the cemetery deteriorated at Lidzbark and access to the site became very difficult, so we took the decision to commemorate the men at Malbork Commonwealth War Cemetery.
"In recent years, that situation has completed turned around and so we have been able to get back into the cemetery and we sent a team from our operations in Belgium to Poland.
"Although it is not possible to identify the individual grave locations, we know the area where they are buried and this has been levelled and we've installed 39 brand new headstones and something the commission calls a Duhallow Block."
Mr Francis added: "To be able to restore the graves, to give their families somewhere to go and pay their respects, is something very important.
"You can physically go and touch the past and pay your respects and honour those men and women who died in a conflict 100 years ago."
Name
Age
Lived or enlisted in
Regiment
Pte Alex Anderson
31
Wolsingham, County Durham
Durham Light Infantry
Sapper Henry James Appleby
Poplar, Greater London
Royal Engineers
Sapper John Ernest Armstrong
31
Newcastle
Royal Engineers
Pte Seymour Blewett
36
Truro, Cornwall
Machine Gun Corps
Pte Frank Bernard Bower
19
Ravensthorpe, West Yorkshire
Northumberland Fusiliers
L/Cpl George Barnard Buck
Norwich
Northumberland Fusiliers
Pte Fred Carter
37
Hanham, Bristol
East Yorkshire Regiment
Gunner Albert Arthur Cockin
27
Cardiff
Royal Garrison Artillery
Pte Ernst Leonard Edwards
19
Bournemouth, Dorset
Devonshire Regiment
Pte William Embleton
24
Newcastle
Northumberland Fusiliers
Pte Frederick William Foot
Blandford, Dorset
Royal Marine Light Infantry
Pte Firth Garlick
Dewsbury, West Yorkshire
King's Own Yorkshire Light Infantry
Pte John Gray Gillyon
34
Beverley, East Riding of Yorkshire
Yorkshire Regiment
Gunner James Grier
22
Alderney, Channel Islands
Royal Field Artillery
Pte Harold Leonard Harlow
19
Gloucester
Lincolnshire Regiment
Pte Arthur Ernest Hobson
Elswick, Newcastle
Durham Light Infantry
Pte William Hugh
Tonypandy, Glamorgan
Yorkshire Regiment
Pte Thomas Jewell
Camborne, Cornwall
Duke of Cornwall's Light Infantry
Sapper William Jobson
24
Durham
Royal Engineers
Pte William Gordon Jones
19
Llanfyllin, Powys, Wales
Durham Light Infantry
Pte William David Jones
Penmorfa, Porthmadog, Wales
Yorkshire Regiment
Gunner Edward William Kearns
26
Hull
Royal Field Artillery
Pte Arthur Lane
Northampton
Yorkshire Regiment
Driver Henry Henderson Lochtie
22
Edinburgh
Royal Field Artillery
Pte Thomas Charles Lock
21
Cirencester, Gloucestershire
Worcestershire Regiment
Pte John Ernest Partridge
19
Streatham, London
Royal Irish Fusiliers
Sapper John Anthony Patterson
27
Hanley, Staffordshire
Royal Engineers
Pte Henry Pickersgill
Scarborough
Yorkshire Regiment
Pte Morton Ewart Postlethwaite
25
Swindon
Wiltshire Regiment
Pte Bertie Pottinger
22
Reading
East Yorkshire Regiment
Pte Charles Arthur Lewis Ramsden
30
Tonbridge, Kent
The Buffs (East Kent Regiment)
Pte Charles Ryder
30
Frodsham, Cheshire
South Lancashire Regiment
Pte Thomas Henry Sellers
Grosmont, North Yorkshire
Yorkshire Regiment
Rifleman Joseph Shall
Finsbury, Middlesex
King's Royal Rifle Corps
Pte Charles Albert Sharp
23
Holborn, Middlesex
Royal Welsh Fusiliers
Pte Edward John Walker
Garsdon, Wiltshire
The Loyal North Lancashire Regiment
Pte Alfred Warner
Wolverhampton
Yorkshire Regiment
Pte Walter Whysall
Barnsley
Yorkshire Regiment
Pte William Clifford Williams
21
Swansea
Gloucestershire Regiment