The English cities which breach air pollution safety guidelines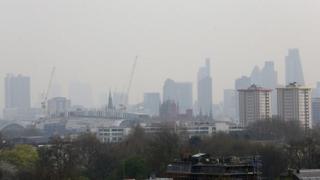 Nine English towns and cities have been named by the World Health Organisation for breaching safety guidelines for air pollution. So why have they ended up on the list?
The coastal city of Southampton, with very little manufacturing, surrounded by water and the New Forest has rarely been compared to the industrial cities of Sheffield and Leeds.
But, along with London, Birmingham, Chesterfield, Nottingham, Stoke-on-Trent and Thurrock, they have been named by the World Health Organisation for their levels of air pollution.
Compared to many of the world's cities, these levels are still relatively low, but factors including road transport, domestic and commercial heating systems and industry seem to have brought them together.
Steve Arnold, associate professor of atmospheric composition at the University of Leeds, said: "The main cause of this pollution in the UK is motor vehicles and that is the local source that really gives us high concentrations of these small particles in city centres.
"In the past, things like domestic heating from coal in cities would have been a problem, but that is not really an issue anymore, and it is road traffic.
"Places like Leeds, Birmingham, Nottingham, are post-industrial large cities with large urban populations, where there are a lot of cars."
The WHO report looked at the levels of a type of pollution known as particulate matter (PMs).
It sets a safe annual average level for PMs and its latest data shows these towns and cities breached the limit set for particles known as PM10.
The European Union sets PM10 levels at 40ug/m3 (micrograms per cubic metre) on average over a year, while the WHO guidelines put this lower, at 20ug/m3.
Southampton and Leeds had the lowest average reading of those breaching this level with 21ug/m3, while Nottingham and Thurrock found themselves top with 25ug/m3. The world average is 71ug/m3.
Dr Arnold said: "The interesting thing if you look at the cities geographically is that pollution you measure in any given region, at any time of year, is only partly made up of what is being emitted locally."
Last month southern areas of England experienced high pollution levels due to dust from the Sahara, while a weekend earlier the north of England saw pollution drifting in from the continent.
"So places like Southampton, while their local emissions may not be stupendously large compared to other cities in the UK, they are in a position where they receive airflow more frequently from the near continent," Dr Arnold said.
"What is important is that we can do a lot by tackling local pollution, even if we can't do much to control stuff coming in from elsewhere."
Maybe unsurprisingly, with a long history of "smog" events, the capital was one of those cities featured on the WHO list.
Most of the pollution is now caused by road transport and domestic and commercial heating systems, according to the Greater London Authority.
And the rise of the popularity of diesel engines in domestic cars has not helped - adding to the pollution coming from buses and taxis.
But these are not problems only seen in the capital.
Birmingham City Council said it is "facing ongoing challenges with air quality, primarily from road traffic" and that it is exploring options in partnership with other West Midlands authorities.
Sheffield, one of England's largest cities, has a proud heritage of steelmaking. Unfortunately, it was also badly polluted from the early 1800s right up to the 1950s.
But new threats from traffic emissions became the next clean air challenge.
Sheffield City Council states the pollutants it is "mainly concerned about" are Nitrogen Dioxide (NO2) and fine particulate matter (PM10 and PM2.5), which come from burning fuels such as petrol, diesel, gas, wood and coal.
Nottingham, with its improvement to transport infrastructure, tram lines and electric buses, has also come a long way in recent years and the city council said it was "surprised" to see it was included in the WHO report.
Councillor Alan Clark, Nottingham City Council's spokesman for energy and sustainability, said: "We are recognised as a clean city that is usually well below acceptable particulate pollution limits."
The council said that only one year's figures - 2008/09 - were available for Nottingham because Defra was upgrading its monitoring equipment in the city during the period the WHO report looks at.
It added: "We are looking to see if there were any localised circumstances that would have caused a higher-than-normal reading for Nottingham in 2009 and we are getting more accurate up-to-date figures."
And Nottingham was not the only council surprised to find itself named by the WHO.
Despite it being revealed in March that Southampton was lagging behind strict European emission controls, councillor Dave Shields said the WHO report "doesn't tally with our own views".
The council added in a statement that over the past 10 years, Southampton has shown a "general decline in PM10 levels".
On its website, the council says the major source of air pollution are road transport emissions, natural occurrences, domestic gas boilers, industrial emissions - particularly from the waterside - and shipping emissions.
Mr Shields, cabinet member for health and social care, said his main concern was for the detrimental health implications of air pollution and "it seems that Southampton is quiet high in this regard".
But he added that view "does not marry with what we had understood to to be our experience of air pollution".
"Having said that, I am very concerned," Mr Shields said.
"The key issue here is to do with increased traffic movement into the city and the port and the growth of diesel engines."
Recently health officials in England called on local authorities to do more to protect people from harmful air pollution, and the one other thing these cities all seem to have in common is an emerging urgency that now is the time to get something done.