Stuart Hall 'rape victim not a gold-digger', court hears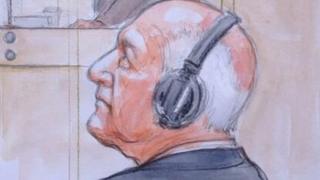 A woman who claims ex-broadcaster Stuart Hall repeatedly raped her has told a court she is not a "gold-digger" wanting compensation.
The woman sought £20,000 in a civil claim as "a full and final settlement" for the alleged abuse in Hall's BBC dressing room, jurors heard.
She said she was giving evidence against Mr Hall at Preston Crown Court because she wanted "justice".
Mr Hall, 84, denies 20 charges of rape and indecent assault from 1976 to 1981.
The charges involve two girls who had sex with the former It's a Knockout presenter, of Wilmslow, Cheshire, on numerous occasions while under the age 16.
One told the court the broadcaster took her to a flat in Sale, Cheshire "many, many times" to be raped, before he went to report on football matches in the late 1970s.
Mr Hall's barrister said that under the law at the time of the alleged offences he would have been charged with unlawful sex with a girl under 16.
On Tuesday, Mr Hall admitted one count of indecent assault.
Girl A
During cross-examination, Mr Hall's barrister Crispin Aylett QC said to one of Mr Hall's accusers: "That is what you have been after all along. Compensation."
The woman, only identified as Girl A, replied: "If I was purely after compensation do you really, honestly believe I would have put myself through this yesterday and today, and now knowing that it is all out in the open?
"You are making me sound like a bit of a gold-digger. Well, there are easier ways of making money."
Last year, Mr Hall was jailed for 15 months for 14 offences of indecent assault against 13 girls. His sentence was later extended to 30 months, at the Court of Appeal.
When asked why she had come to court to give evidence against Mr Hall, Girl A referred to that jail term, saying: "Because, this is no disrespect to the system, I just feel it was not long enough for what he did.
"I felt for those girls because I know and I understand what it's like and I just felt it was an insult to them.
"I don't want to be here, I'm not going to lie about that. But I want justice, I suppose," the woman added.
'Very vulnerable position'
On Wednesday, Girl A told the court she was raped at the BBC studios at Oxford Road and also at BBC premises at Piccadilly, both in Manchester.
The witness was asked to explain a remark she made in a statement saying Mr Hall "didn't tie me down and rape me".
She replied: "When I think rape, I think somebody who's been attacked, grabbed in an alley. There's different forms of rape.
"It's quite a strong word rape, isn't it? Even though I didn't put up a fight, he knew I was in a very, very vulnerable position. He took full advantage of it."
The second complainant, known only as Girl B, told the court she was first attacked by Mr Hall when she was 12 in the mid-1970s.
She said: "I think absolutely it's wrong. It is someone you have trusted.
"I didn't want my father to be ashamed of me. I felt incredibly dirty, ashamed and confused and very frightened and I chose to bury it because I didn't want to appear dirty in front of anybody, but I didn't want anybody to be disappointed in me, particularly my father."
'Very remorseless'
Girl B said Mr Hall went on to rape her when she was aged 14 or 15 in his dressing rooms at Piccadilly and Oxford Road.
She said Mr Hall used to lock her in the dressing room at the Oxford Road studios.
Peter Wright QC, prosecuting, asked her: "Did he ever ask you whether you wanted to have sexual intercourse?"
She replied: "It was never a question. It was expected."
The woman told the court Mr Hall was "very remorseless" and said: "As long as you don't say anything I will be all right."
Mr Hall spoke to Girl B after his initial arrest over a series of indecent assaults on other women, but before she accused him herself.
Girl B said: "Stuart told me... 'What on Earth were these girls saying? How could they remember so long ago?'
"I said 'Stuart, you can't tell me you know nothing, you can't remember. I know that it happened, you know that it happened to me and I remember a lot.'," she told the court.
"He said it was a manic phase he was going through at the time."
Mr Hall, who was first arrested in December 2012, asked her to provide a character statement which she refused to do, the jury heard.
The prosecutor asked the woman why she contacted police after 36 years.
She said: "I want to be able to close the door and move on with my life and tell the truth."
The case was adjourned until Friday. The trial is expected to last seven days.